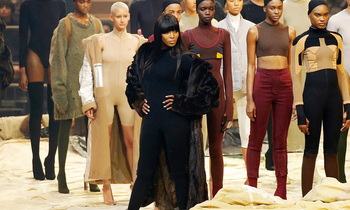 Ugandan fashion addicts woke up to news that their own Stacie Lagum Aamito was among hundreds of models that graced rapper-turned-designer, Kanye West's Yeezy Collection, at New York's Madison Square Garden on Friday morning.

The 23-year-old model was in a black bodysuit, leggings and a hat, in a group behind legendary model Naomi Campbell who, herself, wore a bodycon catsuit.

The famous models on the stage included Alek Wek and Veronica Webb.
Aamito seemed to have followed the performance rules to the later as she looked calm, strong and neutral among other models.

According UK's MailOnline, the new Yeezy collection, now in its third season, attracted several celebrities that included: 50 Cent, Lamar Odom, Jay Z, A$AP Rocky, Tyga, Austin Mahone, L'il Kim, DJ Cassidy and Carine Roitfeld.

West's Kardashian in-laws were also also in attendance.

Aamito's modeling stakes rose to great heights after winning "Africa's Next Top Model" competition in 2013.

Since then, she has graced international fashion runways in Europe and US.

Perhaps it was no surprise she got onto West's Yeezy Collection show.

The models were given a very specific set of instructions such as, 'no whisper, no smile, no eye contact', before going out onto the stage.

Kanye West also used the night to debut songs from his new album, "The Life of Pablo"