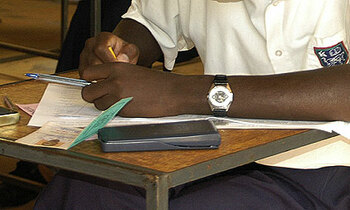 The results of last year's Uganda Advanced Certificate of Education (UACE) exams are due to be released today in Kampala.

Ahead of the results, speeches are going on.


Some of the highlights


A total of 101,268 candidates registered for 2015 UACE from 2,003 centres compared to 108,419 in 2014
Female candidates performed better than males last year
Females did better in History, IRE, CRE, General Paper, Geography, Economics, Literature and Sub-Maths
Results of 279 candidates were withheld representing
Schools rush through the syllabus and so students end up not grasping key concepts in subjects
Art, Mathematics, Sub-Maths were among subjects most affected by exam malpractice.
Malpractice was exhibited in collusion, use of unauthorized material and impersonation, according to Matthew Bukenya
103 Special Needs Education candidates registered: Blind (12), low vision (13), deaf (23), physical impairment (23) and others (32).
Candidature has been falling in the last two years, registered candidates have decreased by 14,920 from 2013 - Bukenya
Also, fewer female candidates (1.0%) were absent compared to males (1.7%)

Meanwhile, the government will next week launch a new technical schools' curriculum, aimed at raising the quality of teaching technical and vocational education in Uganda.

Education minister Major (rtd) Jessica Alupo has commended exams body Uganda National Examination Board (UNEB) for releasing the Uganda Certificate of Education (UCE) exam results in time.