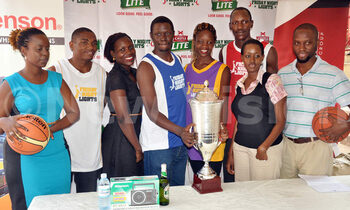 The partnership between Friday Night Lights Limited and Kinetic Management raised the bar of sports innovation in Uganda with the creation of Friday Night Lights (FNL) seven years ago.

Together, FNL Ltd and Kinetic Management brought to local basketball and Ugandan sport at large a smash hit of a sports event, blending fun and competition, fans and league players in a riveting concoction that you might call sports disco.

But as Season 7 gets ready to roll off, the partnership that gave birth to FNL is history. FNL Limited and Kinetic Management decided to end their partnership ahead of the 2016 season, which tips off on Feb 26 at the YMCA.

After a history of large-scale success, the two parties reached a point of no return after what Phillip Kyomuhendo says was a disagreement on the direction of FNL. Several attempts at resolving the matter were futile.

"We disagreed about how the event was being run," said Kyomuhendo, of FNL Limited.

"There was a lot of emphasis on competition and that made the games so intense when FNL was always meant to be about fans. Teams were competing so hard for the cash prizes and that changed what FNL was meant to be about.

"This year, we want FNL to be more about fans and less about the league players."

Attempts to get a comment from Kinetic Management were unsuccessful after phone calls to top officials were not answered.

Cedric Babu and Kinetic Management cracked the sponsorship puzzle and helped FNL annually attract a string of backers that turned the event into the envy of Ugandan sport. Now FNL goes forward without Kinetic Management but officials promise the future is bright.

"FNL will be bigger and better this year," Kyomuhendo vowed.

Everyone's wish is that Kyomuhendo is proved right. Even for Kinetic Management, that would be the best validation of their contribution to FNL.