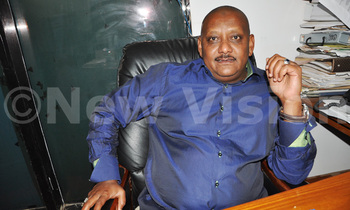 In the eyes of the many Ugandans, Sudan-born businessman, Mohammed Mohd Hamid, is perhaps associated more with the towering soon-to-open 22-storey Hilton Hotel, perched atop Nakasero Hill.
But Hamid, 46, who has been working in Uganda for the last close to 30 years, is also the chairman of AYA group, a multi-billion shilling conglomerate comprising seven different companies - from grain milling, bakeries, transport, investment to biscuit manufacturing among others. He was featured in the prestigious Forbes Africa issue of February last year.
With all the success he has achieved, Hamid felt that the best way to help uplift young people was to provide for them directly.
"Through AYA Foundation, we look after orphaned and under privileged children from all walks of life around the country and aim to give them a better future through education, sports and taking care of their basic needs like housing, feeding and medication," he says.
He says it was in the same breath that he threw his weight behind Hilton hotel, a project he says will offer over 2,000 jobs to youths.
But lately, he says, he has realized that rather than give young people fish, teaching them how to fish is more productive and sustainable. He has thus been involved in initiatives to empower young entrepreneurs to thrive.
It is from this background that Hamid, one of the first five top entrepreneurs to feature in Pakasa in 2012, applauds the on-going Pakasa Youth Awards competition.
"Many young people think about immediate gratification. No one is willing to suffer today for tomorrow's benefit. You give someone sh1m now it's gone by evening. No culture and tradition of investing. But what Vision Group is doing; showcasing young people who are actually reaping from their sweat will go a long way in proving to the multitudes of youths in this country that when you work hard, you can achieve," he says.
He said that the competition is proof that Uganda is full of opportunities for business that young people can exploit as evidenced by the variety of business activities showcased in the competition.
"This is exactly what I have always said; that opportunities abound in this country but have been underutilized by Ugandans. Anything you can think of doing is here in Uganda. All you need to is find your niche and be serious and success will be yours. That is what we see in the Pakasa Youth Awards competition; creative minds harnessing opportunity around them."
He said he had been stunned by the level of creativity and diversity of activity in which contestants in the Pakasa Youth Awards are involved. Hamid said many young will be inspired to emulate their counterparts in the competition which will in effect boost entrepreneurship and job creation as a result.