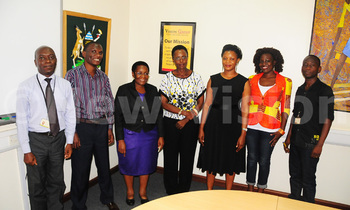 With only two months to go to the end of the Pakasa Youth Awards competition, the panel of judges to preside over the contest was unveiled recently at the Vision Group offices. It constitutes five reputed personalities in business, business support services and academia. See p.30

It is chaired by Maria Odido, the Chief Executive Officer of Bee Natural Products Limited, an agro-processing company based in Arua, Uganda.

"It's an honour to be chosen to chair this panel. It's a gesture of confidence from Vision Group. But most importantly, it ties in with my own vision and mentorship programme for young people," an elated Odido said.

She said as judges, they would be looking out for qualities that make the young entrepreneurs exceptional.

"First of all, I am interested in knowing whether the entrepreneur has a passion for their business or it is just about making money. Do they understand the business they do and do they have a vision for it?"

She said the panel would also generally seek to ascertain whether the entrepreneur understands the intricacies of the business they are involved in and how they intend to grow it from where it is to the next level.

"We will also be listening to that person who wants to grow the business beyond their personalities and small achievement. That person who treats the business as a separate entity and is looking to open it up to investors as a means to expanding operations," she says.

Odido said they were among other things going to look out for people who have innovative ways of seeking funding beyond borrowing, which is a big burden to start-up businesses.

The panel, which will also visit the premises of the young entrepreneurs to verify what they claimed in the stories, agreed to reconvene on February 25 after the general elections to get down to business.

Competition update

Meanwhile over 400 nominations of youth who are managing their own small business enterprises have so far been received in the on-going Pakasa Youth Awards project.

Since October 1, members of the public have been nominating deserving youth entrepreneurs between the ages of 15 to 35 through email and SMS. Other entries are submitted at Vision Group offices around the country.

The awards competition, organised by Vision Group, is meant to encourage, promote and recognise successful young Ugandan entrepreneurs.

Among the entries, young entrepreneurs who have been found eligible to compete for the prize have been and will continue to be profiled every Friday in Pakasa as well as on several Vision Group platforms since October 2, 2015 until the end of March 2016.

The Pakasa pull-out focuses on entrepreneurship issues in the New Vision newspaper.

The prize

Ten lucky young entrepreneurs among these will be flown an all-expenses paid trip to South Korea in May 2016, thanks to the Embassy of the Republic of Korea in Uganda and Korea International Cooperation Agency.

While in Korea, they will tour multinational conglomerate technology companies.

They will also share sh98m which was bequeathed by the Ruparelia Foundation and Centum Investment CEO, James Mworia.


Check out and like @Pakasa Vision for more..



Check out and like @Pakasa Vision for more..