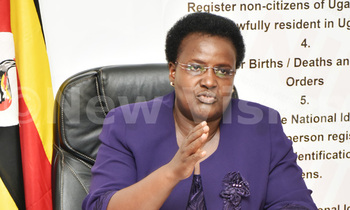 Internal affairs minister, Rose Akol says the shortage for ordinary passports will be no more as the first batch of the travel document arrives next week.

Government recently made an express order for 100,000 ordinary passports following a shortage that forced the Directorate of Citizenship and Immigration Control to ration the issuance of the passport.

Akol told New Vision on Tuesday that the available passports are only being processed to people with emergency travel needs, until the new stocks arrive.

"There is no reason for anyone to speculate because we reserved some passports. Anybody seeking immediate travel abroad can get a passport but those travelling later should wait," the minister said.

The shortage is only for ordinary passports that are blue in colour and does not affect diplomatic (red) and official (green) passports, whose stocks the ministry says are in place.

In October, government ordered for a batch of 50,000 ordinary passports that were expected to last at least six months.

Akol attributed the stock-outs to a surge in the number of Ugandans travelling abroad for job opportunities, especially in the Middle East.

Last week, the Commissioner Citizenship and Passport Control, Nicholas Ongodia, said the number of applications had almost doubled from 300 daily to about 700 applications.

The directorate halted mass issuance of ordinary passports but Ongodia said the new batch of passports was slated to arrive around mid-February.

E-passports

Akol said the shortage of passports would be history once government rolls out an electronic passport system that will make it easier to verify applicants' details.

An e-passport bears a micro-chip that holds the same information that is printed on the passport's data page: the holder's name, date of birth, and other biometric records such as fingerprint and iris data.

An e-Passport also contains a biometric identifier that makes it harder for criminals to forge, and countries such as the United States require that the chip contain a digital photograph of the holder.

Over 100 countries globally use e-passports and Sudan, Nigeria, Somalia, Morocco and Ghana are among several African countries that use e-passports.