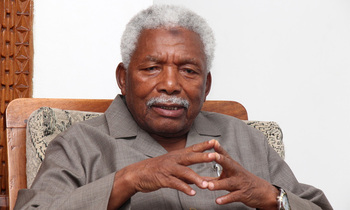 Retired Tanzanian President Ali Hassan Mwinyi will lead the East African Community (EAC) election observer mission to Kampala, the East African Business Week has reported.
Uganda will on February 18 hold general Elections, including choosing the next president for the next five years. President Yoweri Museveni is the incumbent, having held the position since 1986.
Retired President Ali Hassan Mwinyi is the second President of the United Republic of Tanzania whose term was from 1985 to 1995. Thereafter Benjamin Mkapa took over until 2005 when Jakaya Kikwete assumed the Presidency, in which he handed over to President John Magufuli last November, 2015.
According to an EAC secretariat statement, The mission's mandate is to observe the overall electoral environment, pre-election activities, the polling day, the counting and tallying of the general election results. The polling day is scheduled for February 18.
A pre-election assessment team is already in Uganda for the exercise since last week and will assess the level of preparedness by key stakeholders and prepare a report that will inform the short-term election observation mission.
Members of the EAC election observer mission have been drawn from the East African Legislative Assembly (Eala), the five member countries in the bloc: Tanzania, Kenya, Burundi and Rwanda, EAC Youth Ambassadors, Mission Leader, Mission Coordinator, one EAC Executive Staff and technical officers from the Arusha headquarters.
The Uganda Electoral Commission says that some 15 million Ugandans have registered to vote.
By last week most of the biometric verification equipment had arrived in the country for distribution and installation.