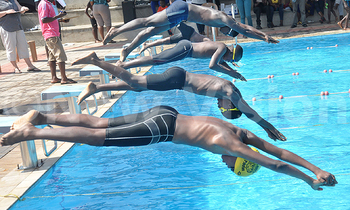 The Silverfin Academy is determined to raise the level of swimming in the country after successfully organizing and holding their first ever Pentathlon, at Gems Cambridge International School on Saturday.

The pentathlon is a five event race in which all participating athletes compete in four strokes in equal distance and in the 100 meters individual medley, with swimmers striving for self-improvement.

It presents an opportunity for swimmers to routinely test their own performance and stroke in a competition environment, while offering coaches a platform to monitor and asses their swimmers and tailor training programs according to the performances.

In the 8 and under girls' category, Zaituni Tomusange, Nakasule Kalungi and Ahmed Namanyi produced the best time in the five races, while Adam Moussa, Yona Lumonya and Arnold Muwonge were the top swimmers among the boys in the same category.

The girls' best times were in the freestyle race where Namanyi clocked 42.96 with Tomusange and Nakasule posting 42.09 and 42.07 respectively.
Moussa and Lumonya were the better swimmers excelled in the fly and free style races of the same category.

Hannah Kyanda, Plaxida Nakabanda and Nadine Byengoma were top in the girls 9-11 years with Brian Bowmaker, Zuri Owinyi, Jason Malan and Paul Wandera also posting better time for the boys in the same category.

Selina Katumba who joins the Silverfins from the Dolphins was a class apart in the 11-12 years category beating Mercedes Mwebeiha and Catherine Bowmaker in all the five races; where Nicholas Malan, Samora Lumonya, Mark Wandera, Aaron Emitu and Joshua Lumonya also excelled.

Other good performances ahead of the new season were registered by Sonia Mukasa, Eleanor Suubi, Yvanni Mwesigye, Andrew Keitirima, Avice Meya and Toft Naome.

Arnold Kisulo, Ronald Daisuke, Reagan Yiga and John Lule also proved they will be a force to reckon with with their new club.

The four-month old club, organised event attracted over 60 swimmers from the age of five onwards from three swim clubs; Silverfins, Sharkteens and Sail Fish.