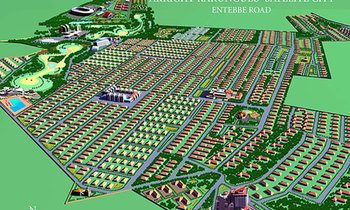 A-UK-based Ugandan, Raymond Karugaba, has sued a Kampala land developing company, Akright Projects Limited, for what he described as fraudulent sale of land and breach of contract.

Karugaba is suing the company together with one of its director Anatoli Kamugisha in his personal capacity for fraudulently participating in the taking of his money for a land transaction that he knew would not materialize.

Suing through Muwema & Co. Advocates, Karugaba filed his case in the Land Division of the High Court yesterday (February 01, 2016). He seeks to recover sh35m that he paid to Akright Projects Limited in cash in 2004 as consideration and out of an agreement for sale of a piece of land situated at Kakungulu New World Village.

He also seeks for orders compelling the defendants severally to pay him damages for breach of contract and costs of the suit plus interest at 24% pa from 2004 when he parted with his monies for a piece of land that never was.

Karugaba contends that ever since he paid his monies for the purported land, the defendants, in total breach of the agreement they duly signed with him, they have neglected or refused to avail him the property despite his incessant demands for the property.

In the alternative, Karugaba is seeking to recover land in the current market value of a similar piece of land in the same area as per the purchase agreement, because the defendants have to-date refused to deliver possession of the original land, yet the land in that is gaining value day by day.