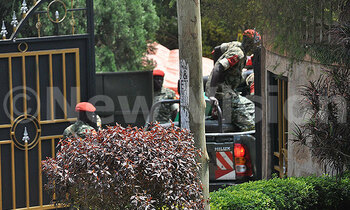 The Uganda Peoples Defense Forces (UPDF) picked Gen. David Sejusa from his posh home in Naguru city suburbs on Ntinda II road in Nakawa division, Kampala.

Sejusa was driven out of his compound in a military Sports Utility Vehicle, the fourth position of a highly guarded eight-car convoy, which sped off to an unknown destination.

He sat in the co-driver's seat and lowered his wind-screen. He could be seen endlessly nodding his head, and gesturing to the onlookers and neighbours, as if portraying discomfort of the events that were transpiring.

His arrest played out in a more sophisticated scene. Eyewitnesses (names withheld) told New Vision that the military men sealed off three routes to the general's home at about 8:30am local time. Thirty minutes later, a convoy of 15 vehicles swung in. All the three routes heading to the Sejusa's homes were sealed off, with five vehicles sealing each of the routes.


The arrest followed a two-and-half-hour search by UPDF officers of the general's home.

The motive of his arrest was still unknown and his home was still under security (UPDF) surveillance pending ongoing investigations.

A statement on social media by Dr. Vincent Magombe, the Secretary Free Uganda Leadership Committee read: "Museveni Military Police has surrounded the Naguru home of General David Sejusa".

Magombe, who is also the Press Secretary FU, explained that the general's organisation is at the heart of the pro-democracy struggle going on in Uganda.

The UPDF spokesperson Paddy Ankunda could not be reached for comment as his known official mobile phones could not be reached (switched off).