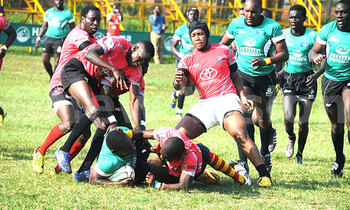 Nile Special Super Rugby League Saturday results

Buffaloes 20 Heathens 33

Kobs 52 Rhinos 09

Elephants 12 Mongers 21


Reigning champions Hima Heathens proved too strong for Toyota Buffaloes by muscling them aside with a 33-20 victory at Kyadondo Rugby Grounds on Saturday.

By half time, Heathens were trailing 8-10 after a false start when hosts Buffaloes made their first mark by scoring a penalty.

The opening half had seen the visitors score a try through eventual man of the match Asuman Mugerwa but it was not converted.

Buffaloes captain Eric Kasiita scored a try that was converted to take the hosts into the break leading.

But midway into the second half, the tables turned and Heathens shot into the lead with 20-13.

The home side clawed back into the game, catching up on 20-20, before conceding two consecutive tries and a direct penalty to lose the game.

Experienced referee Ramzy Olinga, who is the CEO of Uganda Rugby Union, was in charge.

Heathens are three points behind Kobs, who beat Rhinos 52-09 at the Legends ground the same day.

"We have started focusing on their [Buffaloes] next game against Rhinos that they have to win with bonus points to give us a good ground when we face rivals Kobs in a crucial game," said Heathens Coach Robert Seguya after the game.

"My players did not follow instructions in the first half of the game but I knew they would come back and win. They thought they would easily beat us."

Meanwhile, Entebbe Mongers enjoyed a 21-12 away win over Gulu Elephants.