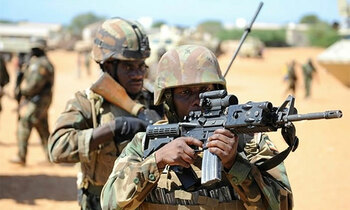 In the face of recent attacks on the Kenyan military bases in Somalia, Maj. Gen. Nakibus Lakara, the AMISOM acting force commander, has said that the peacekeeping troops are re-strategizing o among other things craft in the offensive approach to terrorism in Somalia.

"The El-Adde attack against friendly forces should be a launch pad that will embolden, strengthen and motivate us to go all out and hunt down Al Shabaab and other armed enemies of Somalia.

"We shall re-strategize. Our defenses must now become offensive by nature. It is pay-back time, we shall win this war, and the Somali people shall be free," Lakara said.

According to a statement issued by AMISOM, Lakara made the remarks during a visit to El-Adde Kenya military base, where he commiserated with the AMISOM troops, who were caught up in the attack.

El-Adde was attacked by Al Shabaab terrorists on January 15, 2016, leaving several Kenyan soldiers injured.
"I join his Excellency the President of the Republic of Kenya, Uhuru Kenyatta, who is the Commander-in-Chief of KDF, in reiterating that we are here to ensure that Al Shabaab and other terrorist groups are eliminated from this great nation of Somalia. The Commander-in-Chief has spoken; you are the implementers of the command, I know you are ready," he added.

Lakara told soldiers that AMISOM's mandate is not to keep peace but to enforce peace, an action, which in most cases, puts the life of the soldiers on the line. He also urged Somalis to actively engage in the process of enforcing peace and the AMISOM quest to defeat terrorists.

"AMISOM has been in Somalia for the last eight years. In these eight years, huge strides have been made in the restoration of peace in most parts of the country, giving way to the Federal Government consolidating and expanding its control over the territory.

"But for lasting peace to be achieved, the Somali people must reject and extract Al Shabaab terrorists from their midst. Only by doing this, will they rid themselves of terror. This cannot be left to AMISOM only," he said.

Lakara, who was accompanied by Chief of Operations, Col Mutacho Othieno, Chief Military Information Officer, Col Caesar Bahwezi and Force Spokesperson, Lt Col Paul Njuguna, also visited, Busaar, Baardheere, Taraaka and Dhobley camps.

The AMISOM contingent has grown from 1,600 Ugandan troops in 2007 to over 8, 000 soldiers now. Uganda, Burundi and Kenya are the key contributing countries to the force.