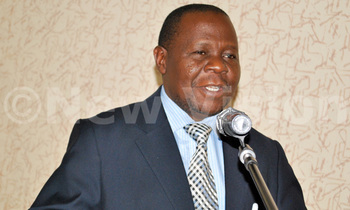 By Joyce Namutebi

Older persons from Uganda and other African countries have complained that they are discriminated against and denied their human rights.

This is according to an organisation called HelpAge International, which is urging African heads of state to adopt a protocol on older people's rights, at the 26th Summit of the African Union meeting in Ethiopia this week.

"Older people across Africa can face harmful, negative ageist attitudes and behaviour," a press release issued by the organisation said.

The release said that when asked how they were discriminated against, an older person from Cameroon said, "The doctor avoids touching me when consulting me."

A man from Uganda was quoted as having said: "I am considered a spent force with nothing left to contribute to society, that I have had my turn and should give way to the youth."

Quoting Article 32 of the Constitution on affirmative action, State Minister for the Elderly and Disabled, Sulaiman Madada, however, clarified that older persons in Uganda are not discriminated against.

He said that in 2009, a national policy on older persons was developed to ensure that the issues affecting them are addressed.

Madada also cited the enactment, in 2013, of the National Council for Older Person Act which created colleges for election of older persons on councils, and the Social Assistance Grants for Empowerment (SAGE) programme.

An older person from South Africa said: "South Africa is no different to most other nations, in that older persons often are discriminated against or experience inequality in society."

Older women and men, the release said, are also denied their human rights across different aspects of their lives. They are subjected to different types of violence and abuse, denied access to health care and an adequate standard of living and treated with disrespect because of their older age.

In a study conducted by HelpAge International in Mozambique in 2012, the release noted that 74 per cent of older people surveyed said they had experienced at least one form of violence and abuse since the age of 50, 22% said their health needs had been neglected, 30% said they had been refused work while 27% said they had been refused a loan. 51% said that other people looked down at them and or treated them in a humiliating, shameful or degrading way.

The Regional Director at HelpAge International Dr Prafula Mishra said, "Adoption of this Protocol provides the opportunity for African heads of state to demonstrate their commitment to every African's human rights, at every stage of their life. It is a fitting way to mark the beginning of 2016: African Year of Human Rights."

"This protocol provides a framework for governments to end ageism and discrimination against older people in Africa," Head of Policy, Advocacy and Campaigns, HelpAge International, East, West and Central Africa, Jamillah Mwanjisi said.

"Adopting the Protocol would be a significant step by governments and provide them with a framework to help them meet their human rights obligations towards people in older age. It also provides us with an advocacy tool which we can use to challenge the ageist attitudes and behaviour that occur at every level of society, from the individual up to large institutions," he added.

The protocol reaffirms the rights of older people in Africa and outlines what governments must do to protect them.

It covers a wide range of rights including prohibition of all forms of discrimination against older people; access to justice and equal protection before the law; social protection, the right to make decisions and protection from abuse and harmful traditional practices.

HelpAge International, based in London, helps older people claim their rights, challenge discrimination and overcome poverty, so that they can lead dignified, secure, active and healthy lives.