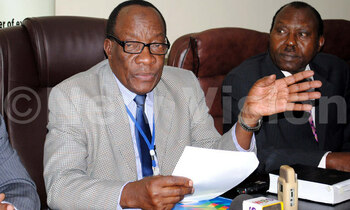 The first consignment of ballot papers for presidential and parliamentary elections will arrive at Entebbe International Airport today.


Without mentioning the number, the Electoral Commission (EC) said the papers will be flown in by Paarl Media, a South African company that was procured to print the presidential, parliamentary and district women councilors ballot papers.


The other consignments of ballot papers from TALL Security Print Limited of UK, Al Ghurair Printing and Publishing House from the United Arab Emirates and local firm Picfare Industries will be delivered in due course. Uganda will hold its presidential and parliamentary elections on February 18.


Seven presidential candidates are tussling it out with the incumbent President Yoweri Museveni.


A total of 2,124 aspiring parliamentary candidates are also in the field battling it out for 455 parliamentary seats.


About sh45b was spent on the procurement of ballot papers. About 15.3 million voters are expected to participate in this year's election.


Briefing journalists Wednesday on preparations for the upcoming general elections, the commission chairman, Eng. Badru Kiggundu, said the printing of the ballot papers is on schedule and the stakeholders will be invited to witness the receiving of the papers at the airport and other handling stages, namely packaging and dispatch to districts.


Kiggundu said only accredited candidates' agents, officials, institutions and organisations will be invited to observe the process.


"With our policy of conducting electoral matters in a transparent manner, we invited representatives of political parties to go and observe the exercise of printing in the four countries. Accredited stakeholders will also be invited to observe the receiving of the papers," he said.


The Commission recently received 32,334 pieces of biometric voter verification system, expected to improve and manage the conduct of elections through authentication of voters.