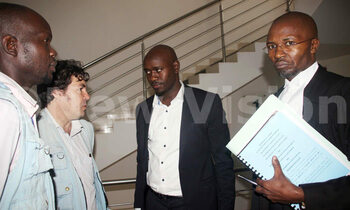 Court has directed telecoms, Airtel and MTN to produce phone records showing communication between Christopher Aine, the head for Amama Mbabazi security team and his cousin Ezra Kabugo.

Justice Lydia Mugambe, the High Court Civil Division Judge made the order Wednesday on the prompting of Aine's lawyer, John Mary Mugisha, who submitted that the documents are vital to establish Aine's whereabouts.

"For the interest of justice and avoidance of delays in this matter, the service providers are hereby directed to print phone records before the case commences for hearing," She directed.

The print-outs are for the period between December 14 and 17 last year respectively.

Mugisha stressed: "The printouts will help us strengthen our evidence to show that Aine is illegally held by police in an undisclosed and ungazetted place".

Mugambe also allowed the Attorney General's representative, Genevieve Kampiire to file an affidavit in reply in connection to Aine's case by February 1.

She set February 16, 2016 as the inaugural date for the hearing of the main application.

On January 5, 2016 Aine's lawyers petitioned court, to compel the Inspector General of Police, Gen. Kale Kayihura to produce Aine in court whether 'dead,' or 'alive' through a writ of habeas corpus Ad Subjiciendum.