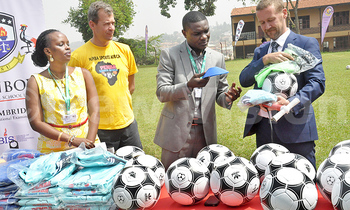 Ugandan football coaches are set to benefit from former Arsenal academy coach Mark Ellis's expertise when he conducts an international coaching course in the country next month.

This was disclosed by Pemba Sports Africa chairman Jackson Pemba as he presented a set of training kit and balls to the Rainbow International School of Uganda Head of Primary School Malcolm Wood at the school playground in Kansanga on Wednesday.

The donation is an addition to part of a consignment of 10000 balls that were given out to all UPE schools across the country to develop the sport.

Ellis who has over 26 years' history of coaching youth football with West Ham, Bournemouth, Sheffield Wednesday, and recently with the Zambian CHAN team believes that there is need to start at the grass root and put the right systems in place.

"For me this is great insight and foresight for what will go on in future. We are trying to implement a philosophy on how to teach the game to children properly and tweaking the coaches' abilities on how to pass on this, because knowledge is power," Ellis said.

"We believe this is the only way forward to our future as a footballing country. This is the beginning of Pemba Sports Africa coaching clinics starting from the grassroots to the senior level," Pemba said.

"We want our coaches to adopt a syllabus of one playing style so that they can go out and pass it on to the different youngsters across the country. We started with Rainbow International School because they have been our partners; we shall do the same for Kabira and the rest will be for government schools," Pemba stated.

Head of Primary School Malcolm Wood said the offer will inspire the children who come from different communities and countries.

"This is a wonderful opportunity for us, the children will be inspired, the equipment is first class and we hope that what has started here will spread to the rest of the schools countrywide," Wood remarked.