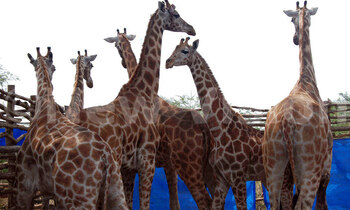 Uganda Wildlife Authority (UWA) has relocated a total of 12 giraffes to the Southern parts of Murchison Falls National Park (MFNP) to promote giraffe population.

According to UWA's Senior Veterinary Coordinator Patrick Atimnedi, the relocation will involve 20 giraffes which will be moved from the northern parts of Murchison Falls National Park to the Southern part of the park.
Atimnedi said another two giraffes will be relocated from the northern parts of Murchison Falls National Park to the Uganda wildlife Education Center (UWEC) formerly Entebbe Zoo.

Currently, giraffes do not live in the southern parts of Murchison Falls National Park. The 20 individuals comprise 16 females and 4 males.
"It is our conviction that this translation exercise will help increase the population of the endangered Rothchild's giraffes in MFNP from the current 860 individuals in Uganda's largest park," Atimnedi said.

He said a team comprising of officials from UWA, Giraffe Conservation Foundation and UWEC formerly Entebbe Zoo set off from Kampala three weeks ago and has been camping at the largest park in Uganda.

He said wildlife translocation is a globally recognized management tool in conservation and is used among others to manage populations and environment by reducing habitat destruction and allow for restoration of degraded ones.

"Translocation helps to introduce and reintroduce species into new and former habitats with the aim to reinforce or diversify species in a locality to enhance survival rate and address problem animal cases," Atimnedi said.

UWA's Public Relations Manager, Jossy Muhangi said UWA has had a long history of wildlife translocation in the country over the years dating back from giraffe translocation to Kidepo Valley national park in 1997.

To Luwero and Mubende elephant translocation (1999-2000), Kidepo eland translocation (2004), Kabwoya hartebeest (2007), Katonga Impala and Zebra translocation (2012) and Lake Mburo giraffe translocation in 2015 among others.

Muhangi said the authority plans to translocate buffaloes and topis to Pian Upe wildlife reserve, Uganda kobs to Kidepo valley national park, Zebras to Katonga wildlife reserve and Hartebeests to Tooro-Semliki wildlife reserve.