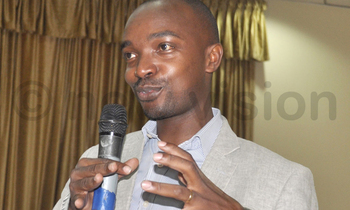 FUFA Super League Limited (FSLL) board chairman Arinaitwe Rugyendo and his members are determined to promote the Azam Premier League up to the standards of the English Premier League by not only attracting more sponsors to the game but by also ensuring the game gets more coverage in the local press.
And before, the FSSL board achieves that they have decided to meet and engage different stakeholders and share ideas on how best they can execute their plans to develop the game.
On Thursday, the board engaged top executives of the Uganda Sports Press Association (USPA) members led by president Sabiiti Muwanga and a section of the media who cover football for two hours at Imperial Royale Hotel, to forge a relationship that will bring the game closer to the public.
"We recognize the importance of the media; it is part of the process that we have been engaged in. We have talked to the business community, we have engaged FUFA and we are going to engage government and other stake holders but we realized the media were critical stakeholders in the promotion and sustenance of the local league," Rugyendo said
"So we wanted to harmonise our positions in the way the league was covered and managed as we try to create media hype around the game,"
He said the FSSL was trying to promote integrity to get sponsor confidence so that fans start believing in the game as well as creating a mindset change in the way clubs run their affairs.
Vice Chairman David Serebe said the board was trying to put their focus on the business and governance end of the premier league to avoid unnecessary conflicts with FUFA.
He said they will even be giving out commissions to whoever brings them business.
USPA president Sabiiti Muwanga advised the board members to avoid wrangles reasoning that it was the one that caused the little coverage the game was receiving of late, which gave chance to other sports to take over the space.
He also advised them to educate the clubs on the roles they have to play to lift the sport.
From the interaction with the media, the FSLL is going to embark on organizing pre and post-match press conferences, increase their presence on social media, re-arrange coverage of the live games and also continue engaging the media regularly on top of opening up a website.
The meeting was also attended among other by the CEO UPL Bainemani Ampaire, APL PRO Axam Ssenkayi, Secretary of the FSSL Peter Kibazo and members Guy Kawuma and Humphrey Mandu.