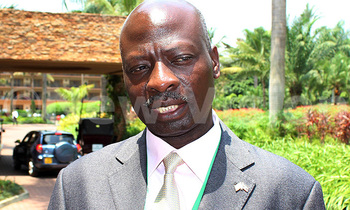 The ministry of health with support from the World Health Organisation (WHO) and UNICEFU will carry out a mass Polio immunization campaign.
Addressing a news conference in Kampala on Tuesday morning, health ministry Permanent Secretary, Dr. Asuman Lukwago said the campaign intends to reach out to 4 million children in the 57 high risk districts.
He explained that the objective is to vaccinate all children under 5 years. The immunization exercise will be carried out from January 23 to 25, 2016.
Districts for Polio campaign have been selected based on high cross border movements of population and low routine immunization coverage.
Lukwago revealed that the government will distribute 7000 beds and mattresses to health facilities across the country.
"This move follows a survey conducted in 2013 which showed health facilities lacked mattresses. Government stepped in to address this gap by providing beds and mattress," Lukwago said.
During the beds and mattress distribution exercise, all old beds will be revoked for repair or disposal, he added.
The initial distribution exercise is supported by Government of China.
He said that the rehabilitation and remodelling of Mulago national referral hospital with a bed capacity of about 1000 beds is expected to be completed by end of 2016.