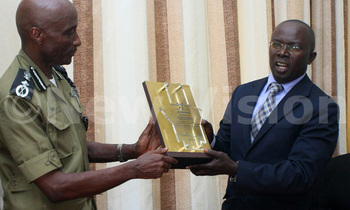 The Inspector General of Police IGP Gen. Kale Kayihura targets to enroll all Ugandans as crime preventers.


Kayihura was responding to a question in which he was tasked to disclose the total number of crime preventers in the country, which he declined to reveal.


"My target is to have all the Ugandan population (35 million) as crime preventers," Kayihura said, before calling upon all Ugandans to embrace it rather than spreading falsehoods about crime preventers.


"The crime preventers' main object is to curb crime and they are not related to the forthcoming general elections as alleged by many reports," he said.


He made the remarks after Makerere University Academic staff association (MUASA) awarded him for ensuring stability at the institution over the last two years.


Dubbed "MUASA appreciation award," the accolade was presented to Kayihura at the University's college of Engineering boardroom, by the MUASA chairperson Dr. Mohammed Kiggundu, Thursday last week.


Kiggundu commended Kayihura for mediating between staff and government, when they laid down their tools in the quest for a better salary.


"It was because of our engagements with the IGP that we were able to get a salary enhancement. The non-teaching staff too are going to get their enhancement in July this year, courtesy of his efforts," he said.


Kayihura said the idea of crime preventers was hatched at the university, shortly after he assumed office.


Makerere has a population of 60,000 people, according to prof. Nawangwe.


Kayiura said between 2005 - 2007 Makerere registered serious cases of rape but ever since crime preventers were enrolled, the gruesome crime has reduced.


While eulogizing crime preventers, Ivan Bwowe, the former Makerere University Guild President, said "South Korea and the US have managed to wipe-out petty thieves and serious crimes by enrolling crime stoppers/ busters/preventers."


Last week, five human rights organizations called for an immediate suspension of crime preventer programme, which they say is affiliated to the ruling party (NRM) and intended to threaten the opposition political supporters come February 18 general elections.


A statement released by Amnesty International, Human Rights Watch, Human Rights Network Uganda, Chapter Four Uganda, and Human Rights Initiative, says crime preventers have acted "in partisan ways and have carried out brutal assaults and extortion with no accountability".


Kayihura said "If these human rights organisations want crime preventers suspended, should also advice criminals to desist from crime."


When asked about crime preventers who commit crime, Kayihura responded that, "If any is arrested for extortion, assault or any other crime, he would have committed the offence as an individual and action should be taken upon him."


"Using volunteer or reserve forces to complement community policing is not a new or inherently bad concept, but these forces need to be regulated, made impartial, effectively trained, and held accountable to the highest standards if they take on policing functions," a statement by Maria Burnett, senior Africa researcher at Human Rights Watch reads in part.


There is scanty information about the exact mandate, command structure and there is no legal statute establishing the programme.


The police's plan is to have 30 crime preventers in each village. In a recent media briefing police spokesperson Fred Enanga said the Crime Preventers are 7000 in total.