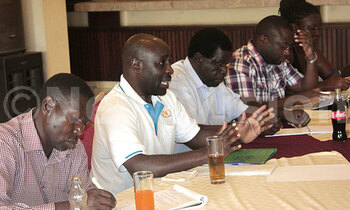 The Uganda Table Tennis Association (UTTA) elections could not go on Saturday after the High Court blocked the exercise.

This follows a High Court order restraining National Council of Sports (NCS) and its agent from conducting the elections.

Over 20 delegates who turned up for the elections at Lugogo in Kampala were disappointed after learning that the exercise could not go ahead.

Former chairperson Robert Jaggwe secured an interim court order through Serwanga/Muwozi & Co. Advocates on Friday.

The High Court order secured by counsel Frederick Ssemwanga and Bruno Sserunkuma puts elections on hold till January 28 when the application for an interim order will be heard.


The Peter Oboma-led interim committee was appointed to chart out a roadmap after NCS disbanded the association executive because of deep wrangles.

The Saturday poll was expected to end the impasse that was caused by a sharp rift between former chairman Robert Jaggwe and his vice Douglas Kayondo. However, the court battle is likely to put the elections to an indefinite period of time.

"There is a plan by National Council of Sports to illegally elect a new executive. The process is illegal. Actually it is a coup and a coup is illegal," Jaggwe's lead counsel Ssemwanga said.

When contacted, Jaggwe said he was forced to seek court action because NCS had failed to listen to his side.

"NCS has done a lot of injustice by interfering with table tennis over the years. They always come in to disband the executive. We tried to engage them but they ignored us," he said.

Many delegates were crest-fallen after learning of the court order.

"This is really very sad for somebody who volunteers to start going to court over normalization matters. I think there are people misguiding him," said Francis Mulindwa.