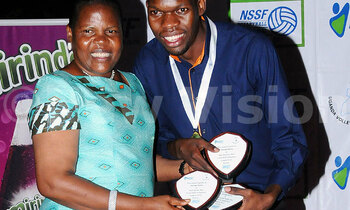 Nemostars volleyball player George Aporu has won his second volleyball player of the year award while Ndejje Elites attacker Margaret Namyalo picked her first ever of the accolade.

This was during the Uganda Volleyball Federation awards night on Friday.


Aporu had previously won the prestigious award in 2013.

The lanky attacker, who inspired Nemostars VC men to the national league, beat teammate Tom Amou and Sport-S VC attacker Ivan Ongom to the MVP award.

In the women's category, Namyalo, who appeared to be overshadowed by her team captain Christine Alupo statistically emerged to take the day.


Aporu also won the national server and attacker awards while Namyalo won the attacker of the year and MVP awards respectively.

Namyalo and Alupo helped Ndejje recover the trophy they had lost to Vision Volleyball Camp a year earlier.


2015 Volleyball Awards winners

Most Valuable Player

M: George Aporu - Nemostars

W: Margaret Namyalo - Ndejje Elites


Best Attacker

M: George Aporu - Nemostars

W: Margaret Namalyo - Ndejje Elites


Best Defender

M: Stephen Oguti - Sport-S

W: Christine Alupo - Ndejje


Best Setter

M: Smith Okumu - Nemostars

W: Milly Laker - VVC


Best Blocker

M: Tom Paul Amou - Nemostars

W: Zaina Kagoya - VCC


Best Receiver

M: Emmanuel Elanyu - KAVC

W: Sharon Pajije - VVC


Best Server

M: George Aporu - Nemostars

W: Belinda Jepkirui - Ndejje Elites


Coach of the year

Hannington Nsubuga - VVC


Best teams men

Winners: Nemostars

Sliver medalist: Sport-S

Bronze Medalist: Nkumba Navy


Best teams women

Winner: Ndejje Elites

Silver medalists: VVC


Beach Volleyball Platinum Awards

M: Dickens Otim

W: Peace Busingye

Bronze Medalists: Sport-S


Men's Serie B

Winners: Mattrixx

Silver medalists: VVC


Lifetime Achievement Award

Catherine Echoku Amuge-KCCA




Best coach Secondary Schools (Boys)

Rafi Bachu - St Marys Kitende

Best Coach Secondary Schools (Girls)

Sadat Waguma - Kinawa High School

Best coach Primary category (Girls)

Joshua Osiya - Sunrise Primary School

Best coach Primary Schools (Boys)

Paul Kamanyiro-Sunrise Primary School