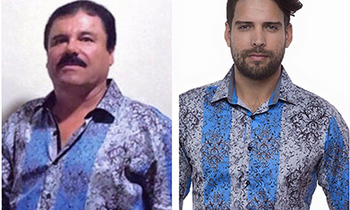 LOS ANGELES - No one would have called Mexican drug lord Joaquin "El Chapo" Guzman a fashion icon when photos of his arrest last week showed the recaptured capo in a smeared, dirty undershirt.

But one Los Angeles retailer is cashing in on an altogether more dapper depiction of the kingpin, in a newly iconic snapshot with Sean Penn.

Barabas, in Los Angeles' Fashion District, was quick to realize the drug lord was pictured in one of its shirts, and even quicker to cash in on it.

Barabas representative Sandra Mancia told AFP that Guzman's star power is rubbing off with increased sales.

"EL CHAPO GUZMAN WEARING BARABAS SHIRT!," the company posted on its Facebook page.

"Like us on Facebook & Instagram for a chance to win our Barabas 'El Chapo' shirts."

The bright blue and gray collared shirt with stripes and designs can be seen in the photo posted in a controversial Rolling Stone article by Penn in which the Hollywood actor and director describes a meeting with the drug lord in the Mexican jungle.

A similar shirt -- blue with paisleys -- which Guzman wore in an accompanying video, is also sold by Barabas.

The company posted screenshots of the drug baron wearing the shirts -- which go by the names "Fantasy" and "Crazy Paisley" respectively -- next to photos of trim models sporting identical versions.

Mancia told AFP she is certain the shirts are one and the same.

As to where Guzman made his purchase, Mancia said people come to Los Angeles and snap up large amounts of the store's clothing to resell in Mexico, the United States and elsewhere.