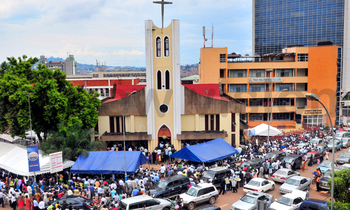 Christ the King Church, Kampala is set for renovation this year.
The renovation likely to start by June will be done in phases according to Henry Ssentoogo, of Ssentoogo & Partners the architects of the project.
"I hope by June the renovation would have begun," he said. "But I envisage three phase in the construction."
He said the plan for the new structure had already been approved by Kampala Capital City Authority.
He added that engineers had given a green light on the structural integrity of the current structure to stand the extension. The engineers had also said that the soil was strong enough to hold the new structure.
Ssentoogo said these were some of the issues KCCA has always raised in relation to the renovation.
"It is strong," he said. "I am in the process of getting the structural engineer to submit the report to KCCA".
He added that another outstanding issue of parking had been solved by a neighbour who had provided parking to the worshippers.
The church located on Colville Street was built in the 1930 for the Goan communities who had come to Uganda to construct the Uganda Railway.
It had its first expansion in 1972 when a few square meters were added.
The current church sitting capacity is 600 people; Ssentongo says that the new church will accommodate about 1300 people.
The church located in the center of the Central Business District (CBD) has faced space shortage for a long time. It has always improvised by erecting tents outside the church where worshippers follow the mass on loud speakers.
The church constituent is Nakasero and Kololo but many elite Catholics come from as far as Wakiso to attend the service.
"The idea is for parishioners praying from outside to attend the mass inside the church comfortably," Msgr. Gerard Kalumba, the parish priest said.
The major extensions are to be on elevation side facing Coleville Street and Kimathi Avenue that will eat the priests' offices and residences. Each of the two sides will add about 300sq m on the main church and another 150sq m that will form the gallery.
The elevation facing Kimathi Avenue will have a unit with three floors to house the priests. One of the units will be the bishop's room. There is also provision of a lift to help on this unit. The unit is detached from the church to keep the church's artistic form.
Ssentoogo says the main church will not be touched. The lower ground will be extended to create more space for offices as well as the tower.
He revealed that he was still engaging the quantity surveyors, and the structural, electrical, and mechanical engineers to come out with the total cost of the project.
Kalumba said the church has been keeping some money since 1992 when they conceived the idea of expanding the church, but he expects more from worshippers.