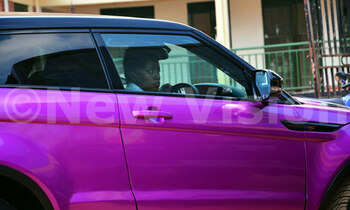 By Robert Mwesigye

A Ugandan-coined saying goes, "better to cry in a benz than on a bodaboda;' think what you may of it, but embattled singer Leila Kayondo, who dragged her husband, businessman SK Mbuga to court for assault, is just about most recent testimony to that adage.
Kayondo, who stood surety for her husband after he was given bail early this week, arrived at court in a brand new pink Range Rover Sport, to the bemusement of onlookers.

Mbuga appeared at court to hear his case which did not proceed because of missing documents in his file.
Dressed in black jeans, teamed with a top and white sleeveless jacket, complete with ankle-high red boots, Kayondo emerged from the sleek shinny luxury car, albeit looking somber.

The machine, that could cost up to sh200m, was so new it was glittering; the reflection of the rough murram road evident on the steel-plated hind bumper, complete with foreign-registed plates.
This though is just an addition to another brand new Mercedes Benz, red in colour, Kayondo had been seen driving around town following the unfortunate incident when she was assaulted by her husband.

The sighting of the red Merc was construed by unamused fans as the reason she later unsuccessfully pleaded with the Police to release Mbuga from custody, saying she had withdrawn the charges.

Kayondo had, following her assault in public, taken to social media to vent out her anger and frustration at being continually abused and mistreated at the hands of Mbuga.
Shortly after she was sighted in the red Merc, she rescinded her statement, again on social media, saying she had pardoned Mbuga and they would sort their problems as mature people.

This was a telling episode, akin to the famous telenovelas, depicting an emotionally tortured being, whose self esteem has been so raptured, but for the desire to maintain a status quo.
The emotions played out today at court; a somber-looking Kayondo is pictured standing outside court with a seemingly counseling lawyer, Paul Kenneth Kakande, who has his hand consolingly placed on her shoulder as Mbuga looks on, with a near blush on his cheeks.