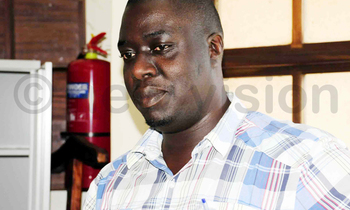 EDWARD Jengo, a newspaper agent has told court that the former Vision Group Principal Accountant used to deposit cheques in his account and then he would issue him with cash equal to the cheque amount.
While testifying before the Anti-Corruption Court judge Lawrence Gidudu, the 43-year-old resident of Jinja district, told court that he was approached by Francis Kigoye about the deal, in September 2012.
"He asked me to allow him deposit the cheques on my account since he had no account with Vision Group. He also gave reason that he earns little from the company yet he wanted more," Jengo said.
He added that at first he was hesitant but when Kigoye called him through the phone and requested to meet him in person, which they later did, he accepted.


Kigoye would then deposit the cheques at an interval of two months between the cheques, and would collect cash from me after presenting my payment receipts and statements for the newspaper.
In total he told court that the interdicted accountant deposited seven cheques worth sh95.4m.
Being guided by state attorney Tom Walugembe, Jengo said he would get newspaper supply from New Vision worth the cash he gave to Kigoye.
When asked by the lead counsel whether he had paid the money, he said that he has cleared all the money and is still dealing with the company as a newspaper agent.
Kigoye is facing charges of embezzlement of over sh335m from the company. It's alleged that he stole the money through manipulating the receipts and carbon copies. Jengo appeared as the fifth prosecution witness.