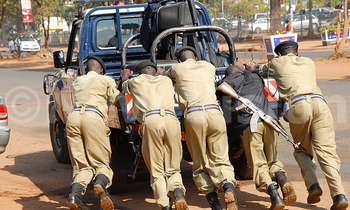 A cross section of Muslim clerics in Kampala has asked the police to withdraw their security guards saying that they are of no use to them.

The clerics led by the first deputy Supreme Mufti Sheikh Mohamood Kibaate said that their security remains weak and that there is no need for the guards to stick around.

"How do you allow a person under the surveillance of an enemy to drive home alone? Is this how we protect citizens whose lives are under threat?" Kibaate asked.

Kibaate said that a number of Muslim clerics were killed, after guards were assigned to protect them.

"How can one be killed and the guard is spared? We can't continue to be killed yet police is coming out with an excuse of 'the attackers' take advantage of a security lapse."

Kibaate added: "a similar security lapse was observed when Joan Kagezi, a senior State prosecutor was gunned down in Ntinda-Kiwatule last year."

The Muslim clerics made the comments in a joint statement issued at Wandegeya Mosque after a meeting that was held after news that killers were targeting another group of leaders, broke out last week.

The clerics allegedly on the hit list include Kibaate, Sheikhs Swidiq Ndaula, Najib Ssonko, Yasin Kakomo, Haroona Jjemba and Prince Kassim Nakibinge Kakungulu.

The meeting that had families of the slain Muslim clerics and those on the alleged hit list resolved that police guards should be withdrawn adding that God will protect them.

"They are doing nothing and most probably they are a source of our insecurity because on various occasions, the killer will trail the person with guards hence putting our lives in danger," they resolved.

Kibaate also warned that death of someone's family member cannot be an issue of politics but justice has to prevail whether delayed or not.

"It is wrong to politicize someone's murder," Kibaate who is also among the Muslim clerics on the hit list said.

For the past two year, twelve Muslim clerics who include; Sheikh Kiirya , Sheikh Abdul Rashid Wafula of Mbale, Sheikh Dr. Abdul Qadr Muwaya of Mayuge, Abdul Karim Ssentamu and Hajj Abubaker Kiweewa have been killed

Others are Hajj Mustafa Bahiga, Sheikh Yusuf Madangu of Bugiri, Sheikh Abdul Jawad of Namayemba Mosque (Bugiri), Hajj Sebaggala Abdurrahman, and Sheikh Abdu Karim Sentamu.