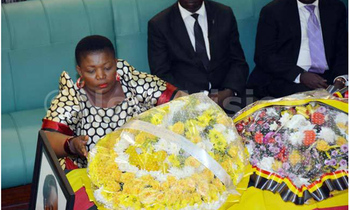 By Nicholas Wassajja

Fallen Bukomansimbi woman MP Susan Nmaganda has been hailed by mourners as a courageous, hardworking and peace building politician.

This was during a requiem mass led by Msgr Charles Kasibante at St Mary's cathedral, Lubaga to pay last tribute to Namaganda, 31, who breathed her last on Friday at Nakasero Hospital in Kampala where she was admitted following a car accident along the Kampala- Masaka road.

The mother of three is also the wife of Uganda's representative to the East African Legislative Assembly, Fred Dennis Mukasa Mbidde.

A deathly silence hang over parliament as Namaganda's body arrived to lie in state; however, it was the heartbreaking sight of an emotionally drowned Mbidde, clad in a black suit and shirt as honorary pallbearer, that evoked an outburst of emotions from mourners.

"She became a household name when she staged a spirited fight for prices of agricultural commodities and was nicknamed beyi y'abilime.

"This means she believed in hard work. To the family, our readings today (2 Macabees 12:43-46, Revelations 14:13 and Jonah 11:17-27) are a beacon of hope that God has the best plan for your loved," said the Archbishop of Kampala Cyprian Kizito Lwanga, in a homily delivered by Msgr Kasibante.

The deputy Katikkiro Apollo Makubuya also eulogised the late: "She worked hard on her values for Buganda, the church and DP. So this should be a lesson for party members to reconcile and unite because that's what the Kabaka wants for his people. We've lost a vital pillar as we strive for young and courageous women leaders."
Born to the late Simon Peter Kamala and Elizabeth Sserunkuma Bbosa, Namaganda attended St. Mary of Lourdese primary school, Mengo Senior School and Christ the King Kalisizo for O'level, Kawala Secondary school for A'level and Makerere University where she attained a Bachelor's degree in Information Technology and a Diploma in SISCO and Networking.

She came to parliament in 2011 and was the deputy DP national women chairperson from July 2015, member of the parliamentary scripture union and organizing secretary DP Bukomansimbi.