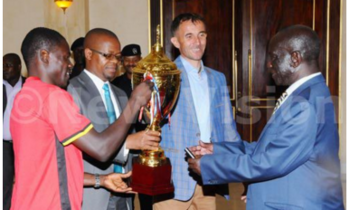 FUFA president Moses Magogo has called on government to initiate new laws to govern sports in Uganda because the current laws are 'obsolete'.

Magogo's appeal comes at a time when National Council of Sports (NCS) has called on all national associations/federations to fulfil some requirements.

"Current laws are obsolete. Government should start making modern laws. Government also should build regional sports facilities. Don't leave sports governance to the National Council of Sports alone," Magogo said at a dinner at State House in which the vice president Edward Sekandi represented president Yoweri Museveni.

He also complained about high taxes government levies on sports and football in particular. Although Magogo explained that FUFA is on track chasing its set targets, he said the federation requires finances to cater for the coach Micho, club owners, and teams to grow football in the country.

Sekandi said that he would pass the message to the president. "The CECAFA performance means you can do better in bigger tournaments. You are now equipped with skills and tactics of football," Sekandi said.

Meanwhile FUFA has shared CECAFA cash prize of $30,000 among the Uganda Cranes players and officials in appreciation for their effort at the regional championship.