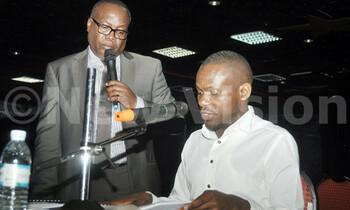 By Pascal Kwesiga                                            

A fake firm claiming to have links with US based Eutaw Construction Company, also referred to as Eutaw International in different bid documents, 'applied' for seven road projects out of nine in 2010, a commission of inquiry into corruption at Uganda National Roads Authority (UNRA) has heard. 

However, the company was evaluated for three road construction projects.

The Commission's lead counsel Andrew Kasirye Monday presented documents showing that Eutaw, which received an advance payment of sh24.7b in a bogus deal for the upgrade of the sh165b Mukono-Katosi road, was also evaluated for 35km Ishaka-Kagamba and 77km Kapchorwa-Suam road projects.

Four UNRA senior managers including the authority's executive director, Eng. Ssebugga Kimeze; director for planning, Eng. David Luyimbazi; Joe Ssemugooma, the director for finance and Marvin Baryaruha, the director for legal, were suspended from the roads agency last August over the 74km Mukono-Katosi fraud. 

Together with three others; former minister of works and transport, Abraham Byandala; Isaac Mugote, formerly an employee of Housing Finance Bank Ltd and Apollo Ssenketo, who claimed to be Eutaw's country representative, are facing corruption related charges over their role in the suspected fraud.
Dan Mugalu, the former Head of Procurement and disposal Unit at UNRA, giving evidence on Ishaka Kagamba Road during  a hearing at the Commission of Inquiry into UNRA held at Imperial Royale Hotel in Kampala on 23rd Nov 2105.  Photo by Godfrey Kimono

Byandala reportedly directed UNRA to conclude a contract with Eutaw before due diligence was done on it. US based Eutaw which was presented as the company which had won the contract, denied having participated in the project.

Appearing before the probe chaired by Lady Justice Catherine Bamugemereire, Allen Namale, UNRA's former procurement officer, said Eutaw actually applied for the construction of Kapchorwa-Suam road only, but it was evaluated for Ishaka-Kagamba and Mukono-Katosi which it had not bid for.

"When the bids were opened, I saw Eutaw International as the company which had applied for the road, not Eutaw Construction Company Limited," she added. Ishaka-Kagamba road was built by General Nile and Dott Services.

Dan Mugula, UNRA's former head of procurement and disposal unit, was asked to confirm if Eutaw International and Eutaw Construction Company which played different roles in the bidding processes for the projects, constitute one entity.

"You have Eutaw International and Eutaw Construction Company participating in the same bidding process at different stages. Is that not an issue of legal significance?," Kasirye asked. But Mugula, who joined UNRA in 2008 and left in 2011, could not explain the anomaly.

The Government's move to execute nine road construction projects and pressure to deliver on political pledges, Mugula, said could be blamed for some of the problems the procurement processes encountered.

"It was unusual for UNRA for initiate such a number of projects at the same time. UNRA had to mobilize contractors on site in a short time with a lot of money coming from the Consolidated Fund," he added.

Timothy Balaza, a member of the committee that evaluated bids for nine road projects said it was not their role to detect anomalies in the names of companies they were evaluating.

"That is the role of the head of procurement. We are only given documents to evaluate," he added.  Balaza stated that it is not unusual for companies participating in the bidding processes to be presented with slight differences in their names.

However, he explained that Eutaw was dropped from the Ishaka-Kagamba and Kapchorwa-Suam road projects because its documents were not in order.

Asked by Bamugemereire which company was best evaluated for Mukono-Katosi, he said it was Unique Construction and that Eutaw's documents were not in order. He was not asked how Eutaw won the contract. Hearing continues today.