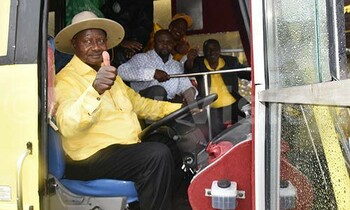 By Moses Mulondo

According to the roadmap by the Electoral Commission, Presidential campaigns are supposed to officially kick off today.

The NRM's presidential flag bearer Yoweri Museveni, who is seeking a fifth term, will launch his campaigns today in Luweero where he started the bush war that brought him to power in 1986.

FDC's Dr. Kizza Besigye, who is running for presidency for the fourth time, will launch his campaign today in his home town of Rukungiri.

The TDA Go Forward Alliance's flag bearer John Patrick Amama Mbabazi who is backed by six opposition parties (DP, UPC, Justice Forum, UFA, SDP, and PPP) will be in Masaka town.

Tension has already started to build up following the burning of a vehicle (Nissan UAB 873L) belonging to Mbabazi's mobilizer for Greater Masaka Meddie Kikomeko who was distributing his presidential candidate's posters on Saturday.

Prof. Venansius Baryamureeba will start his campaigns today in Kayunga town, and PDP flag bearer Dr Abed Bwanika will be in Kamuli town.

The independent Coalition's candidate Eng. Joseph Mabirizi will have a joint platform with Mauren Faith Kyalya in Iganga town.
Follow live updates of where your candidates are:

NRM's Museveni in Luwero

Besigye of FDC starts off in Rukungiri

Amama Mbabazi in Masaka


And for more election-related stories, CLICK HERE

Related stories

19 aspirants pick nominations forms for 2016 race