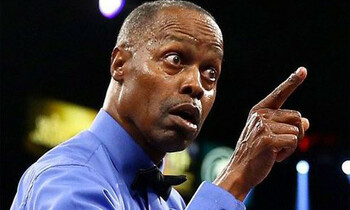 By Samson Opus

World renowned boxing referee Kenny Bayless is expected in Uganda for the first time.

Bayless who officiated in a fight of the century between Floyd Mayweather and vanquished Manny Pacquiao will arrive in Kampala on December 9.

Bayless who will be accompanied by his wife Lynora, a health and wellness coach, will be in Uganda to launch a project that will support retired boxers and other sportsmen.

Project dubbed 'Beyond the Ring' is part of the Resurrection Life Ministries in Lubowa.  

Pastor David Kyambadde said the  goal of the project goal is to develop a fund where former and current boxers can get assistance.

true
Referee Kenny Bayless holds back Floyd Mayweather during his fight against Marcos Maidana. Image/AFP

The project will also inculcate vital life skills that can help boxers and other sportsmen outside the ring.

"This is an effort birthed out of love for the sport, confidence in Uganda's past and present talent, and a desire to develop the sport and its fighters beyond the ring," said Kyamadde.  

" This is important because boxing, while a viable sport, is not a lifelong career," added the US-based pastor.   

While in country, the two will give Ugandan boxers encouragement and inspirational talks.

There will also be a charitable Christmas gala involving amateur and professional boxers.  

Bayless will feature as the official for one of the fights.  

Kyamadde  said the event will take place on December 13, 6:00 pm at RezLife Church Playground in Lubowa .