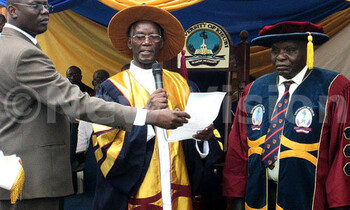 By Mathias Mazinga

Kisubi Brothers University College, which has been a constituent college of Uganda Martyrs' University, Nkozi, is now a fully-fledged University.

Located at the headquarters of the Brothers of Christian Instruction at Kisubi on Entebbe Road, in Wakiso district, the University is now called, University of Kisubi.

The University was launched by the Special Presidential Advisor on Finance, Maria Kiwanuka, who unveiled the University's logo alongside the Chairman of its Governing Council, Prof. John Ddumba Ssentamu.
Bro. Pius Ochwo, left, Bro. Kazzekulya, centre and Pro. SSebuufu with the flag of the University of Kisubi. Photo/Mathias Mazinga
During the function that took place at the University on Friday, Rev. Bro. Peter Kazzekulya, was installed as the University's first Chancellor. Also installed was the University's maiden Vice-Chancellor, Prof. John Ssebuufu.

The Rome-based Superior General of the Catholic Brothers of Christian Instruction, the Very Rev. Bro. Yannick Houssay, was also vested as the University's Patron.
Bro. Yannick, left, installing Bro. Kazzekulya, right, as Chancellor. Photo/Mathias Mazinga
Bro. Kazzekulya promised to work harmoniously with the governing council, senate and staff of the University, to deliver qualitative holistic education, which would empower the students to be innovative, practical, disciplined and development-oriented citizens.

Prof. Ssebuufu pledged to promote knowledge generation through research and innovation. He also promised to improve on the University's infrastructure.
Graduands carry offertory gifts during mass at the graduation ceremony. Photo/Mathias Mazinga
The University's inaugural function coincided with its 9th graduation ceremony, during which 306 students were awarded certificates, Diplomas, Bachelor's and Master's Degrees in disciplines like Counseling, ICT, Education and Business Administration.

The graduation ceremony was presided over by the Vice-Chancellor of Nkozi University, Fr. John Chrysostom Maviiri. 
Maria Kiwanuka presents a gift to one of the best performing graduands. Photo/Mathias Mazinga

President Yoweri Museveni, a great supporter of the University of Kisubi, congratulated the Catholic Church, the Community of Kisubi, Uganda and the East African Community on the inauguration of the new University.

In his message, read for him by Maria Kiwanuka, Museveni asked the administration and staff of the University of Kisubi, to design focussed and market-driven courses, which would empower the students with practical knowledge and life skills. He also called for high-quality education that meets international standards.

The University of Kisubi was started by the Catholic Brothers of Christian Instruction, in 2004, as a Centre of Uganda Martyr's University, Nkozi.

In 2009, it evolved as a Constituent College of Nkozi University, which also supervised it until it was given a Letter of Interim Authority, by the National Council of Sports, to qualify as an autonomous University.

The University enjoys a prestigious affiliation with the American University of Walsh, which supervises its Master of Education programme.