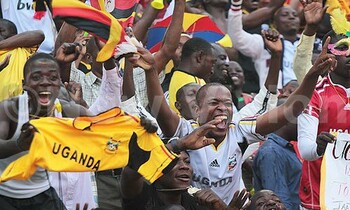 By Shafik Ssenoga
FIFA World Cup Qualifiers
November 12
Togo v Uganda
November 15
Uganda v November

State House will decide as to whether fans will accompany the Uganda Cranes team on the chartered plane offered by President Yoweri Museveni.

FUFA spokesman Ahmed Hussein told New Vision on Tuesday that the federation only plans to submit a list of the Cranes team that will battle Togo in the 2018 FIFA World Cup first leg qualifier against Togo in Lome on November 12.

"It's State House to decide whether the fans will be part of the chartered plane or not since FUFA requested for the Cranes team only," Hussein said.

According to reports, State House plan to transport 100 people for the game in Lome.

Considering that the Cranes contingent is normally about 30, it means that the extra 70 slots could be taken by fans.

In his latest offer for the Cranes, the President will also meet the cost of air tickets for the foreign-based players who will be invited for the game. Museveni will also cater for the costs of the national team's preparations amounting to $44,000 (sh170m) in Togo and sh70m for the return game.

The government will also take care of the team's allowances and bonuses of $3,000 (sh12m) per player depending on the results.

Uganda last met Togo in the 2015 AFCON qualifier in October last year with Cranes losing both home and away games 1-0.

The Uganda Cranes squad that will start preparations for the Togo game will be named by head coach Milutin 'Micho' Sredojevic today during the FUFA press conference.
RELATED STORIES:

President to charter plane for Uganda Cranes to Togo