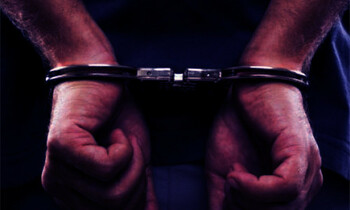 By Richard Drasimaku                             
POLICE in Arua district have arrested a police constable and a crime preventer in connection with Saturday's fatal shooting of a resident arresting an arson suspect.
SPC Kaliano Okusa Obitre is accused of firing the fatal shot while in company of Natal Anguzu a crime preventer during a poorly executed but ultimately failed arrest.
Police spokesperson for West Nile Josephine Angucia said the incident happened at around 7:00am at Andelizo trading centre in Adumi Sub County.
The duo had gone to arrest Innocent Munguci, a resident of Okasia village, Nio-Vurra parish in Adumi who reportedly burnt down three grass thatched houses following a disagreement with family members.
The family members reported the matter to Adumi police overnight but the police only responded early the following morning. 
Munguci who is said to be a marijuana addict took off upon seeing the uniformed men approaching the trading centre. 
Angucia said Obitre unprofessionally opened fire on the runaway suspect but missed the target and instead hit another resident identified as Monday Debo. 
The bullet that passed through Debo's chest killed him instantly. 
Angered by the incident, the residents turned on the Obitre and Anguzu but they sped away on a police motorcycle. 
However the angry residents chased down and intercepted Munguci who they lynched to death before heading to the sub county headquarters. 
The mob took the motorcycle Obitre was using, vandalised office buildings, dismantling the windows, chairs, a solar system and ripping files to shreds before anti-riot police reinforcement from Arua central police arrived. 
"We don't know where to start. We have been unable to find many files. This destruction needs about sh70m to fix and I don't know where we are going to find that money," Christopher Afeni, the Adumi sub county chief said.
The Arua Resident District Commissioner Peter Dibele who visited the scene on Monday ordered the police to pursue members of the mob who perpetrated the violence saying arresting them will send a signal that mob justice is unlawful. 
Dibele condemned the vandalism as an act of savagery saying that the building was not the reason for Debo's killing.
He gave the people seven days within which to produce the police motorcycle, warning that the matter would be treated as a case of theft of government property upon expiry of his amnesty.
Meanwhile Angucia said the officer in-charge of Adumi police post would be suspended and tried by the police disciplinary court for neglect of duty because he failed to properly brief the constable on how to effect the botched arrest.
"It was not a situation that warranted use of fire arms. You can only shoot at suspects if they are armed or violent but the aim should be to disable the suspect so that you can apprehend and take them to court," she said.