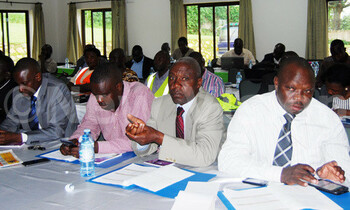 By Geoffrey Mutegeki Araali
Leaders from 14 municipalities that are benefiting from the Uganda Support to Municipal Infrastructure Development (USMID) program are meeting in Fort Portal to discuss the progress of the program.
USMID is a five-year program being implemented by the government of Uganda with a World Bank/ IDA credit of US$ 150m (over sh500b) and a government contribution of US$ 10m (over sh36b).
The fifth program technical committee meeting is being held at Mountains of the Moon Hotel, in Fort Portal town.
USMID program is aimed at enhancing the institutional performance of 14 municipalities to improve urban service delivery.
The 14 benefiting municipalities include: Arua, Entebbe, Fort Portal, Gulu, Hoima, Jinja, Kabale, Lira, Masaka, Mbale, Mbarara, Moroto, Soroti and Tororo.
According to Isaac Mutenyo, the USMID program coordinator, the meeting is aimed at among others, to highlight and resolve technical or coordination issues impacting on program.