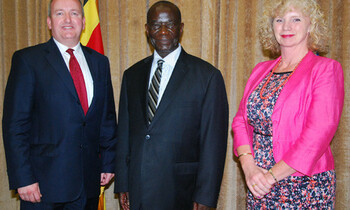 Vision Reporter  

The Vice President Edward Kiwanuka Ssekandi has said that abolishing death penalty for capital offenders needs sensitization so that the victims and those affected by such crimes and the community can appreciate such a move.

The Vice President observed that hurried scrapping of such legislation may lead to more violence and lawlessness including mob justice if the population is not well sensitized to appreciate its merit, according to statement issued from the vice-president's office.  

The Vice President who was discussing with Mark Pritchard a UK All Party Member of Parliament pushing for global abolition of the death penalty said it would not be justifiable in the current circumstances to safe an offender who has consciously committed a murder for the basic argument that their lives need to be protected. The meeting took place on Thursday, this week.

He said that such a move would defeat the principle of equal justice and cultivate dissent for the justice system and attract mob justice saying justice must be achieved on both ends of the offender but also the victim and those affected.

Mark said that his group believes that death penalty is inhuman and is seeking global support to have the legislation scraped from law books arguing that Governments exist to protect but not to take life.

He however on behalf of the UK Parliament and Government appreciated Uganda's sacrifices for the peace in Somalia and the contribution the country has made to the peace in the region and called for Uganda's leadership to find a political solution to the conflicts in South Sudan and Burundi.
He also observed that UK was concerned about the political uncertainty in the DRC which he said was recipe for violence and conflict and asked the Government of Uganda through the International Conference on the Great Lakes Region work with other regional leaders to find a solution.
Responding to his concerns, the Vice President said that Uganda's leadership's interest is to have peaceful and stable region to facilitate development of the region and make its peoples more productive.
He also dismissed media reports in the foreign media claiming that Government of Uganda was curtailing the opposition in carrying out political activities explaining that there is need to work within the provisions of the law if the country is to have free and fair elections saying its Government responsibility to enforce rule of law.
The meeting was also attended by the British High Commissioner to Uganda Alison Blackburne.