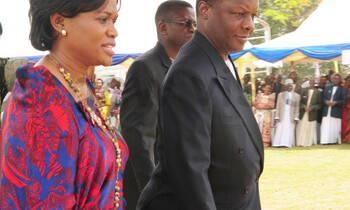 By Jeff Andrew Lule
KABAKA Ronald Muwenda Mutebi has ended his tour of Busiro County to promote Bulungi Bwansi (Community Service).
Speaking at the main celebrations at the county headquarters, in Sentema, Wakiso district, Mutebi urged people to focus on custom of collective volunteerism within communities to promote development and fight poverty.
He called on schools to instill the practice of community service among their students.
The Kabaka commissioned four plays which will be performed in schools to educate people on Buganda culture and norms.
During his tour, he visited several areas in Wakiso, Including Katabi Sub County, Namayumba, Kakiri and Wakiso.
He encouraged cultural leaders to work together with local government officials to fight poverty among the people, saying there is still a big gap in delivery of social services.
"If we promote collective volunteerism in our communities, our people especially the youth will be able to support themselves to fight poverty and do many other things to improve situations in different areas," he added.
At the main celebrations, Prince Richard Ssemakokiro was also officially introduced to the public.
The Katikiro Peter Charles Mayiga, urged people to be innovative to promote value addition for local products like local brew and others to compete at the national and regional markets.
He also called on people to only vote for those who are loyal to the Kabaka.
The Wakiso district Woman MP, Rosemary Sseninde complained to the Kabaka about some groups of Baganda who connive to grab people's land and rampant evictions in the area.
"These people evict people without giving notices to the tenants. Others just grab people's land," she noted.