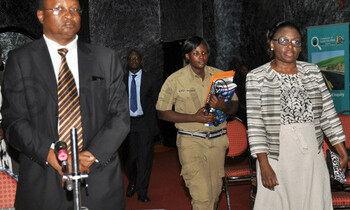 By John Agaba
FORMER UNRA boss Eng. Peter Ssebanakitta, who is named in the Tororo-Mbale-Soroti road fraud as the executive director who approved two-year lifespan road that cost over sh200b, on Thursday asked Justice Catherine Bamugemereire commission of inquiry into the roads authority if he could deliver his evidence in camera.
Polished, smart, and looking pristine (he was in a suit) UNRA's pioneer boss appeared before the probe into alleged corruption at the roads authority in a calm demeanor, ready testify.
But after he took the oath and probe counsel, Mary Kutesa, concluded with the formalities (of state your full names before the commission for the record, what is your occupation, where do you live… et al), the engineer, couldn't face the tribunal — at least not in front of the glaring cameras and video recorders from reporters who were attending the hearing. He implored the commission if he could give his testimony in camera, not in presence of the pressmen and presswomen attending the hearing. Justice Catherine Bamugemereire granted him his wish. By press time, it was not clear whether he had given his testimony or not.
Among other allegations, the former UNRA boss, who left the roads authority in March 2013 after months of acrimonious wrangling between him and his board, is cited as having vouched for a two-year lifespan road that the authority eventually built, but paid over sh200b sufficient to build a 15-year lifespan road.
Appearing before the probe on Wednesday, Eng. James Okiror, the director of projects at the roads authority, told the commission that Ssebanakitta argued for a two-three year lifespan road because of "financial constraints".
Eng. Ssebanakitta is also named as having approved sh30b compensation to contractor Dott Services Ltd for 509 days his (contractor) equipment was unused after works were tendered to commence.
Investigations into the Tororo-Mbale-Soroti road hit new twists this week, after it emerged that the then works minister, Abraham Byandala, and his then deputy, John Byabagambi, "interfered" with construction works.
The commission heard on Wednesday that Byandala directed the roads authority to shift construction of the road from under the directorate of projects at UNRA to the directorate of operations.
"It was after this directive that a design review changing the scope of works from road maintenance to construction was approved, which shot the cost (of the road) up from the initial sh77b to sh171b," said the probe counsel.
Eng. Ssebanakitta told the commission before he chose to testify in camera that the minister's decision didn't auger well with projects director Eng. Okiror.
The two ministers (Byandala and Byabagambi) are set to appear before the Justice Catherine Bamugemereire commission on Tuesday next week to explain their role in the road fraud case that wasted over sh200b of taxpayers' money.
The hearing continues on Monday.