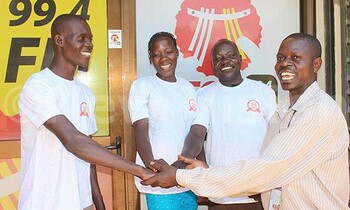 By Godfrey Ojore 

Twelve people from upcountry towns have won a fully paid trip to visit Kampala  and Entebbe International airport courtesy of Vision Group Company.

The promotion dubbed Karibu Kampala, that has been going on in the past one month on the four Vision Group radio stations that include Radio West, Arua One, Rupiny and Etop radio required listeners to send text messages to the respective stations.

The promotion intended to give a chance to people who have never been to Kampala.

The head of radio at Vision Group, Bill Tibingana said that they are rewarding their loyal listeners with things that they will live to remember.

"We are giving back to the community by providing them with things they will live to remember," Tibigana said. Each radio station got three winners.

The winners inside the bus to Kampala
He explained that the programme will be annual with the plan of giving many people a chance to reach the capital city.

"They are our pioneer winners and we have considered making it annual and with time we may consider flying our winners abroad," Tibingana said.

The three excited winners from Teso sub-region who have never crossed Awoja Bridge, thanked  Vision Group, for what they termed as a golden opportunity.

They include Abraham Atiku of Omanju village Labor sub-county in Serere, Naume Achung of Tubur sub-county in Soroti and Nelson Odila of Ngora.

"I have been longing to visit Kampala where the parliament is built and Bank of Uganda but I had no opportunity since I have no relative in Kampala. This year will remain a memorable year in my life," Atiku a father of five said.
RELATED STORIES:

Etop radio takes over Teso airwaves