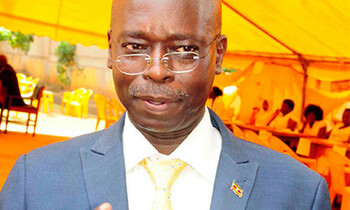 By Mary Karugaba

KAMPALA - Uganda's minister of state for industry James Shinyabulo Mutende has died.

The cause of the 53-year-old's death is not known yet, but New Vision understands that the minister died Friday night at his home in Makindye, a suburb in Kampala.

His body is said to be at Nsambya Hospital in the capital.

A veterinarian, economist, academic and politician, Mutende was appointed to that position in May 2011, replacing Fr. Simon Lokodo, who was appointed State minister for ethics & integrity in the Office of the President.

His death comes hardly a month after the passing of minister of internal affairs, Gen. Aronda Nyakairima -- exactly three weeks ago (September 12).

Mutende was the husband to former East African Assembly legislator Lydia Wanyoto.
 
true
State minister James Mutende pictured here with his wife Lydia Wanyoto when he was nominated for the flagbearer for Mbale Municipality MP seat recently. (Credit: Eddie Ssejjoba)

When New Vision tried to contact Wanyoto, the phone was received by someone who said he was her personal assistant.

"Mrs Wanyoto cannot receive your calls now because she has lost her husband," he said.

When asked what happened, the voice on the other end of the line offered: "He died last night in his bed at home. The body is right now in Nsambya Hospital.".

"If you want more information, please come home in Makindye, Lukuli road."

Trade ministry public relations officer (PRO) Hadija Nakakande confirmed the news but said details would be communicated later.

Mutende kick-started his career as a teaching assistant at Makerere in 1987 (this was during his final undergraduate year). After there, in 1989, he worked at one of the branches of then government-owned Uganda Commercial Bank as manager.

He was also involved with the Uganda Investment Authority as an investment officer from 1988 until 2009.

The Mbale-born and Busoga College Mwiri Old Boy (OB) also worked  part-time as an assistant professor of economics at The New School in New York while pursuing his doctorate from 2003 and 2005.
 
true
Here, minister Mutende with President Edgar Lungu of Zambia at Quality Chemicals in Luzira, Kampala. (Credit: Eddie Ssejjoba)




Profile

Born on February 26, 1962 in Mbale to Michael Mutende, the first Ugandan Town Clerk of Mbale Municipality

 
Education

1976 – 1983:  Busoga College Mwiri in Jinja District

1988: graduated from Makerere University with a Bachelor of Veterinary Medicine

1999: Master of Business Administration from Makerere University

2005: Doctor of Philosophy in Economics from New School University in New York City

 
Career

1989 -1994: worked as a manager of one the branches of then government-owned Uganda Commercial Bank

1988 – 2009: worked with the Uganda Investment Authority as an Investment Officer

2003 – 2005: while pursuing his doctorate in New York, he worked part-time as an Assistant Professor of Economics at The New School and concurrently carrying out financial development research at the United Nations offices in New York City

2011: appointed the State minister of industry and technology