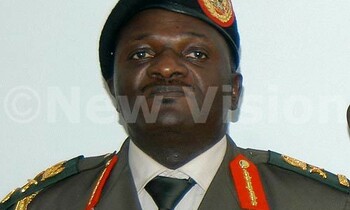 By Cecilia Okoth

The Chief of Defense Forces Gen Katumba Wamala has warned Maj. Roland Kakooza Mutale against creating militia groups that he said will jeopardize next year's 2016 elections.

"If Kakooza Mutale is training political cadres, there is no problem, but he will not be allowed to train militia ahead of next year's campaigns. Either you are part of the uniformed force or not," Katumba said, adding that he personally warned Mutale over the matter.

Mutale is said to be training militia in Luweero District to counteract political opponents who will stand in the way of President Yoweri Museveni in the 2016 polls.

"The law is very clear. Not every individual is allowed to raise forces," Katumba said.

He was speaking on the sidelines of a piping ceremony that saw senior army officers Henry Tumukunde and Frederick Alexander Oketcho rise to the ranks of Lt Gen.

The two officers were at the same time retired together with Col Shaban Bantariza who is currently the Deputy Director Uganda Media Centre.

"Uganda Peoples Defense Force is a force that has transformed and become one to reckon with. Avoid the culture and practice of some officers who have thrown mud at the institution after retirement," Katumba told the officers before they left the UPDF headquarters in Mbuya where the ceremony took place.

Meanwhile, addressing concerns on what it would mean if UPDF withdrew its forces from South Sudan, Katumba said once they get to that point, they would do as expected.

"We cannot realize what it will mean but when they time comes to withdraw; we shall bring our forces back home. At the moment, our main concern is the safety of Ugandans living in South Sudan," He said.

UPDF will in the near future consider withdrawing troops from the war torn country.
RELATED STORIES: