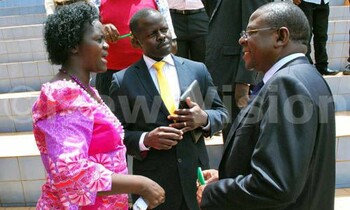 By Violet Nabatanzi

88 percent of the boreholes in the country are functional, the ministry of water and environment has said.

Speaking during the 5th national water, sanitation and Hygiene (WASH) civil society organization forum at Hotel Africana on Wednesday, water director, ministry of water and environment Eng. Aaron Kabirizi said: "The target of the Ministry is to increase water supply coverage in both urban and rural to facilitate universal access to safe water and improved standards of sanitation and hygiene for all."

He said previously only 20% of the boreholes in the country were functional before strategies were put in place by government. He added that currently there are about 50,000 boreholes.
 Woman MP Nebbi district, Christine Acayo (L) interacting with the director Water Development, Ministry of water and environment Aaron Kabirizi  (R). Center is the Executive Director  UWASNET , Doreen Kabasindi Wandera, during the 5th National wash CSO Forum by the Uganda Water and Sanitation NGO Network (UWASNET) workshop at hotel Africana on 30/09/2015. Photo by Godiver Asege
"Right now we have community based maintenance system and we also sensitize the public how to look after their boreholes. Every year we count the number of water sources which are not functional," he said.

Kabirizi also warned the public against consuming spring water, saying that it is contaminated. Currently rural water coverage stands at 65 %.

"As the population increases many of our water sources get contaminated, for example we cannot advise people in urban setting, to use spring water because it is all contaminated. Originally when we drilled boreholes water was safe but now when you go to urban centers, many of the sources are contaminated." 

The theme for this year is "Uganda Beyond 2015: Leaving No One Behind; Make water and sanitation rights a reality."
He commended CSOs for their contribution towards water and sanitation sector. "Last financial year, CSOs investment to the sector increased to sh49.3 billion from sh37.8b.

The money was invested in supporting water and sanitation infrastructure development, develop and maintain water, sanitation and hygiene facilities, he explained.

The executive director, Uganda water and sanitation NGO network (UWASNET) Doreen Kabasindi said CSOs have managed to repair 438 boreholes for domestic and institutions, 41 piped water schemes and 251 shallow wells.

She called for a need for NGOs to adhere to the standardized designed by ministry of water and Environment and work more closely with district local governments.