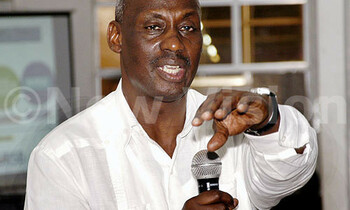 Uganda's minister of Internal Affairs General Aronda Nyakairima has died of a heart attack, according to government spokesperson Ofwono Opondo.


New Vision early Saturday learnt that the 56-year-old general died "inflight from South Korea to Dubai" on his way back to Uganda, according to the ministry of internal affairs.

In his tweet, Opondo said Aronda had died of a heart attack and that his body is still in Dubai.

According to Opondo, the state minister of internal affairs James Baba and the ministry permanent secretary Dr. Stephen Kagoda are due to hold a meeting Saturday at Kololo in Kampala.
 
true

Before his ministerial appointment in 2013, Aronda had served as Chief of Defense Forces from 2003 to 2013.

He has previously worked in differnt levels of intelligence in the Ugandan military, including intelligence officer on the Presidential Protection Unit.

A married man, Aronda reportedly did not drink nor smoke.

In October 2010, he was inducted into the International Hall of Fame at the Lewis and Clark Centre at Fort Leavenworth, Kansas, USA, for attaining the highest position in the military of his country (CDF).

Upon being appointed as minister, the army man was replaced by Gen Katumba Wamala as Chief of Defence Forces.



Also related to this story

The career of Gen. Aronda in pictures


true