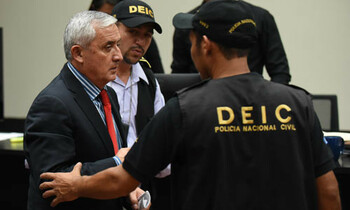 GUATEMALA - -Guatemala's Congress swore in a new president Thursday as disgraced former leader Otto Perez was ordered detained to prevent him becoming a fugitive from justice in the Central American nation's long-running corruption saga.

Perez spent much of a tumultuous day at proceedings held at Guatemala's Supreme Court, answering a raft of corruption allegations, just hours after handing in his resignation.

His vice president Alejandro Maldonado -- a 79-year-old conservative who only assumed the office in May -- will serve out the rest of his former boss's term, handing over to a new president on January 14 after scheduled elections this weekend.

"The Guatemalan people have been at the center of great moments of change and upheaval in our institutions, mobilized by their disgust with broken systems," said Maldonado, a lawyer and former judge on the Constitutional Court, after taking the oath of office and assuming the blue and white presidential sash.

"The new government must emerge from the need to inspire citizens' confidence, opening a space in public service for mature and experienced people but also young professionals and social activists."
Guatemalan new President Alejandro Maldonado Aguirre gestures after taking on presidency, in the Congress in Guatemala City on September 3, 2015. Guatemala's Congress swore in vice president Alejandro Maldonado as head of state Thursday after his former boss Otto Perez resigned amid a firestorm of corruption allegations.      AFP PHOTO / RODRIGO ARANGUA
Congress earlier in the day had voted unanimously to accept Perez's resignation, which he submitted just before midnight Wednesday, after lawmakers stripped him of his presidential immunity.

Guatemala holds national elections on Sunday to choose a new president, along with other key federal posts.

Perez, a former military intelligence officer, had been in office since 2012. He was ineligible for re-election.

The elections come with the country roiled by demonstrations and amid a broad rejection of the traditional political elite in light of the scandal engulfing Perez and other leading politicians.

Flight risk

At the conclusion of Thursday's court hearing, Judge Miguel Angel Galvez said Perez posed a flight risk and ordered him held at the Matamoros military prison near the center of Guatemala City to ensure that he appears when the proceedings resume on Friday.

He added that putting him in jail is also the best way to ensure his safety from protesters who might do him harm.

Perez's attorney balked at the detention order issued against his client, reminding the judge that the former president had voluntarily appeared in court to answer the charges against him, despite having had ample opportunity to flee.
Demostrators celebrate in front of the Electoral Supreme Court (TSE) in Guatemala City on September 3, 2015. Guatemalan ex-president Otto Perez appeared in court Thursday over corruption allegations, hours after he resigned following unprecedented protests that have upended the political scene three days from elections. AFP PHOTO/ ORLANDO ESTRADA
"As president, he had broad powers, including access to land and air means that he could have used to get beyond the reach of the law," defense attorney Cesar Calderon argued, to no avail.

Before the Supreme Court, prosecutors had played out wire-tapped phone calls they say implicate Perez in a scheme to defraud the state.

Investigators believe the 64-year-old conservative received $3.7 million in bribes paid by importers in exchange for illegal discounts on their customs duty, said prosecutor Antonio Morales.

Perez's former vice president Roxana Baldetti, who resigned in May, has already been charged with taking $3.8 million in bribes between May 2014 and April 2015.

Through it all, Perez has maintained his innocence.

"I'm calm and I will face the situation bravely because I've done nothing wrong," Perez told a local radio station before his court appearance, where he sported a dark suit, red tie and a haggard look on his face.

Otto, you thief!

The embattled Perez stepped down after clinging to power through months of mounting protest that continued Thursday, as Guatemalans erupted in celebration outside the Supreme Court upon the news of his resignation.

"Otto, you thief, you're going to Pavon!" they chanted, referring to one of the country's main prisons.

Thousands have hit the streets in protest since the scandal first erupted in April, on a scale never before seen in Guatemala.

The accusations have stoked outrage in the country of 15 million people, 53.7 percent of whom live in poverty, where the scars are still fresh from a 36-year civil war that ended in 1996.

Guatemala also has the dubious distinction of being one of Latin America's most violent nations, with 6,000 murders each year.

The scandal was uncovered by investigators from a United Nations commission tasked with fighting high-level graft in Guatemala, who say they found massive evidence that Perez orchestrated a scheme dubbed "La Linea" (The Line), named for the hotline that importers would allegedly call to access a network of corrupt officials.

Investigators say their accusations are based on 89,000 wire-tapped phone calls.

The climate in Guatemala is jubilant but also tense heading into Sunday's elections, which will also choose the members of the 158-seat legislature and 338 mayors.

AFP