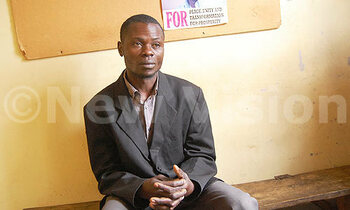 By Davis Buyondo

RAKAI - The Police in Kalisizo town, Rakai District on Monday evening arrested a man said to have masterminded the gruesome attack on a family of seven people leaving one dead and others badly injured.

Richard Lubaale Tekigerwa, also known as "Musoga" a resident of Kisunku village in Lwankoni Sub-county, was arrested at around 6.00pm from Bugoma Island in Kalangala district and transferred to Kalisizo police station under very tight security.

Lubaale was arrested in connection to the murder of Stella Kyomuhwezi, 21, an in-law of the attacked family and a resident of Rusheshe in Kiruhura district.
true
Brian Ssemanda, one of the badly injured victims. His health is gradually improving. Photo/Davis Buyondo
Unknown assailants attacked John Kyayi's family, hacked his daughter-in-law (Kyomuhwezi) dead leaving four other members of the family critically injured.

The horrible incident occurred at Kisunku village in Lwankoni Sub-county about 2km from Kalisizo town on Monday at around 2.00am.

Joseph Ssempijja, 23, Brian Ssemanda, 26, Dimintiriya Nalwanga, 10 and John Ssegayi, 6, were rushed to Hope of Holy Family Clinic at Kalisizo town very critical condition.

According to police, Lubaale was arrested as a suspect due to a long-standing and land dispute with John Kyayi's family which could have sparked off the attack.

According to Tanan Chiriga, the District Criminal Investigations Officer (CID), they are still questioning the suspect as part of their investigations.

Chiriga said they have enough clues that will lead them to other accomplices in the crime.
true
Dimintiriya Naluwuge  sustained a broken arm in the attack. Photo/Davis Buyondo
Although it's not very certain about the actual number of the attackers, police detectives believe they were three in number including the two who entered the house during the attack and their driver.

However, following Lubaale's arrest, a mob of angry residents stormed his home, demolished his house, and looted all the property there was before they burnt it down.

Police could not do much as they arrived late at the scene after property worth sh10m was vandalised.

Kisunku residents demanded that Lubaale's family be excommunicated and vowed to lynch all his family members in retaliation for his alleged crime.

Maria Golodiano Muggagga, the Kisunku village LCI Chairman applauded police for arresting Lubaale but also condemned the act of demolishing his house saying he had a family that stayed in the house.

He further appealed to the residents to remain calm and avoid taking the law in their hands, because police has already embarked on the case to identify the actual killers and establish the truth in the matter.

He further added that the village executive committee would not give in to the residents demand to excommunicate Lubaale's family when the matter is being investigated by police.

Lubaale at Police

While at police, Lubaale denied all allegations of masterminding the brutal attack on John Kyayi's family.

He said that the land dispute between them was resolved and they have been on good terms.

Lubaale explained that as a good neighbour, he would pay a courtesy call to the family whenever he had time adding that he also sent his siblings to John Kyayi's family to be nurtured into various disciplines such as brick-laying and others.

He further explained that since the year began, he noticed a strange attitude of John Kyayi's family members who ignored him and could not greet any more.

He added that he could not do anything to hurt John Kyayi's family as being alleged by residents who look back at the past relationship and row over land.

At present, police and residents attributed the brutal incident to a long standing land dispute over one-acre of land between Lubaale and John Kyayi (the father of the injured victims) and the family.

It is alleged that the land belonged to Lubaale's grand mother Rose Nalubega and John Kyayi's family allegedly occupied it unlawfully without their consent.

New Vision has also established from the LCI Chairman that John Kyayi's family claimed to have bought the piece of land from Lubaale's grandmother but failed to produce the agreements and other documents proving the claims.

He added that Lubaale wanted to reclaim the land through whatever possible means which forced them to refer the matter to Kalisizo police station for further follow up.

Taban Chiriga, the Rakai CID said Lubaale has been wanted in connection with the rampant motorcycle robberies in Kalisizo and neighbouring communities.

He however condemned the mob's action of knocking down Lubaale's house saying he is being treated as a suspect in this case because police is still investigation the matter.

He explained that police is still investigating the matter under CRB 360/14 while the Lubaale remains in detention at Kalisizo Police station.