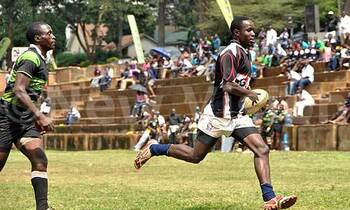 By Johnson Were
 
KCB Rugby 7s Results

Main cup Final

Heathens 29 DMark Kobs7

Semi Final Results:
Heathens 32 Pirates 0
DMark Kobs 12 Buffaloes 7
Plate Final
Jinja Hippos 7 Rams 12
 
Bowl Final
Impis 12Rhinos 0
 
The former U-19 Rugby Cranes fly half, Ivan Carter Magomu, that declared his retirement from Rugby early this year, returned for his Club, Pirates in the KCB Rugby 7s Circuit this weekend at Makerere University Rugby Ground.

Magomu the former Namilyango college team captain and Pirates rugby club fly half returned hope to Pirates as he helped them reach the semi-final of the main Cup despite losing to Heathens that eventually won the circuit.
 
"Yes am back for Pirates and I expect to give my best in this tournament," Magomu said.
true
This lady won the KCB dash for cash challenge.
He explained that losing to Heathens 32-0 should worry the Pirates fans because the team didn't give all its heart out because they are planning to travel to the Masaku 7s in Machakos in Kenya next weekend.
 
Heathens not ready to give away the Trophy
Not prepared to lose the KCB 7s circuit Crown, and having struggled to win the previous first circuit with 19-17 narrow defeat of Toyota Buffaloes, Heathens fielded its full squad that included all the Rugby Cranes stars.
 
With Michael Wokorach, Asuman Mugerwa and Bishop Onen back from national duty, Heathens was too strong for their opponents as they whipped Pirates 32-0 in the semifinal and later smashed DMark Kobs 29-7 in the final.
 
Michael Wokorach proved his form as he scored two tries and Philip Wokorach managed a try in a bruising final.
 
After two Circuits, Heathens is leading the table standings with 44points, eight ahead of second placed Toyota Buffaloes and DMark Kobs that are level with 36point each.
 
Action returns on Saturday in Mbale with the third Circuit and later the fourth and final circuit at Legends Kampala Rugby Club.
 
The Rugby 7s is sponsored by Kenya Commercial Bank.