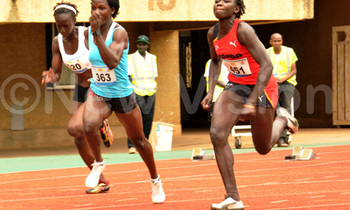 By Norman Katende
Selected winners at national trials
Women
100m: Moureen Banura (KCCA) 12.23
200m:  Nasiba Nabirye (UWA) 25.77
400m: Emily Nanziri (Police) 53.30
800m: Dorcus Ajok (Ndejje) 2:02.04
1500m: Sarah Akiror (Prisons) 4:36.02
10000m: Annet Chebet (Ndejje) 35:59.91
L/jump:  Mary Unyuthfua (UCU) 5.93
S/Put:  Janneth Acan (UCU) 11.23
Javelin:  Lucy Aber (Police) 43.55
Men
100m: Ivan Wesonga (UCU) 10.82
200m: Denis Opio (UWA) 21.17
400m: Denis Opio (UWA) 46.53
800m: Jimmy Adar (Prisons) 1:49.44
1500m: Geoffrey Chelangat (Prisons) 3:53.10
5000m: Joshua Cheptegei (Police) 13:51.19
Javelin: David Senoga (KCCA) 60.61
S/put: Martin Odong (Prisons) 12.88
L/Jump: Alfred Okot (Prisons) 7.36
Discus: Richard Oyet (Ndejje) 34.99
Emily Nanziri ran into the Glasgow Commonwealth Games women 800m race, after hitting the qualifying mark at the fifth national trials that were held at Namboole stadium on Sunday.
The trials had been pushed forward from Saturday because of the Africa Cup of Nations encounter between Uganda and Madagascar, which Uganda won 1-0 and advanced to the next stage.
true
Ronald Musagala in red runs behind Denis Opio in yellow. PHOTO/ Norman Katende
Running against early season dominant force Shida Leni, Nanziri managed to put up a respectable run, setting a new personal best as she clocked 53.30 seconds to qualify for the games that are due next month.
The qualifying mark for the games is 53.80s and Leni's time of 54.08 was just micro seconds off it, as she waits for the final opportunity to qualify next Saturday.
The option of taking a woman long relay team to the Glasgow games is based to at least having  two women runners directly qualifying for the 400m.
Dennis Opio also closed in to qualifying mark for the games despite not being pushed by Ali Ngaimoko, who is currently in Europe.
The Uganda Wildlife Association athlete managed to come home after clocking 46 minutes 53 seconds in the 400m. 
He had little competition as he beat his next challenger Anthony Okiror (47.54) by over 5 metres though his time was out of the Games qualifying mark of 46.50 by 0.3 seconds.
Opio went on to also win the 200m event after clocking 21.17 seconds off the 21.00 second qualifying mark.
"I still have time.  I will try to make it next weekend," said Opio ahead of the Akii Bua Memorial event that will be held at Namboole on Saturday.
Joshua Cheptegei continued with his dominance but he was running alone in the men's 500m, clocking 13:51.19 with Nathan Ayeko coming home over  20 seconds behind.
The trials are aimed at helping athletes qualify for the different international events.
Related stories