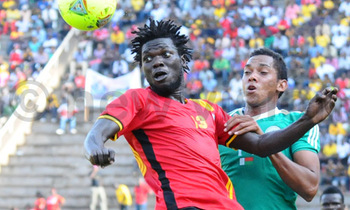 By Fred Kaweesi
Africa Nations Cup Qualifiers
Results
Comoros 1 Kenya 1 (Kenya qualify 2-1 on aggregate)
Uganda 1 Madagascar 0 (Uganda qualify on away goals after 2-2 tie)
Rwanda 3 Libya 0 (Rwanda qualify 3-0 on agg.)
Guinea Bissau 3 CAR 1 (Guinea-Bissau qualify 3-1)
Sierra Leone 1 Swaziland 0 (Sierra Leone qualify 2-1)
Chad 3 Malawi 1 (Malawi qualify on away goals after 3-3 tie)
South Sudan 0 Mozambique 0 (Mozambique qualify 5-0)
CRANES' progress to the second round of the 2015 Nations Cup qualifiers had the name Geoffrey Massa littered all over it.
And this in the process concealed the contribution of Moses Oloya — a player whose influence on the game was immaculate.
In one way or another, Oloya was something of an unsung hero. He decided Uganda's destiny in this fixture.
Although Oloya was not at the end of Cranes attacking play, he did a crucial job for the Cranes in areas of the pitch that were so fundamental.
true
Oloya tormented the Madagascan defence throughout the match and was Cranes' liveliest forward. Photo by Mpalanyi Ssentongo
Considering the manner in which Cranes were set out to play, Oloya, who turns out for Vietnam side Binh Duong, operated well from the wide positions but popped to devastating effect in a free role behind the main strikers Geoffrey Massa and Emmanuel Okwi.
He started on the left but was tasked to occasionally join central midfielders Geoffrey Kizito and Khalid Aucho.
Feeding off the two midfielders, Oloya's mercurial touches often allowed Cranes' myriad attacking talents to flourish even in times when Madagascar had numbers behind the ball.
He played across all blades of grass in the centre of midfield, cutting back to take the ball off the two central midfielders and work it forward, as well as bombing up to the penalty area to support the two strikers.
He was always in the right place at the right time to create goal-scoring chances and defend when the opposition attacked.
Madagascar simply couldn't isolate him as he moved around midfield with unbelievable energy, picking out his teammates with defence splitting passes.
He had step-overs and the uncanny knack for making his markers collapse to his will.
From one of these situations, Oloya almost snatched a second goal for Cranes.
However, after feinting and sending two Madagascar defenders flying, his effort was thwarted by goalkeeper Robin Rakotonirina.
Okwi disappears 
On the contrary, Emmanuel Okwi was a flop. The Yanga striker had gone into the game as a certain match-winner.
true
Okwi (right) who endured a torrid match, celebrates with goalscorer Geoffrey Massa. Photo by Mpalanyi Ssentongo
He was however a shadow of the player that rocked Namboole with a majestic display in the 2-1 win over Angola last year.
His first touch was poor. Okwi could neither dribble nor pass a reasonable ball to a teammate. It was the worst we saw of him. Something wasn't just right.
Ratings
Denis Onyango 7
He was steady and dealt with all the aerial balls. He also organised the defence during set-piece situations.
Denis Iguma 7
He was solid and composed. He held his lines admirably and dealt with danger-man Carolus Andriamahitsi.
 Brian Majwega 7
He was drafted in as a make-shift and didn't disappoint. He frustrated star-man Baggio Rakotonomenjanahary.
Andy Mwesigwa 5
He was shaky and made wrong decisions at times. One almost gifted the visitors a scoring opportunity.
Isaac Isinde 7
He was calm, solid and headed away all that was put before him despite his pint size.
Khalid Aucho 7
He was fantastic and disciplined in holding his position. He did not show nerves and had an effort saved.
Godfrey Kizito 7
The Kenyan based midfielder was uncharacteristically shaky at the start but stabilised later in the game.
Kizito Luwagga 7
He worked hard, troubled his marker with pace and agility.
Moses Oloya 8
Cranes best performer. He created chances and covered more ground.
Emmanuel Okwi 4
He was awful. He could not dribble, pass to a teammate or shoot on goal.
Geoffrey Massa 7
Despite his misses, he scored a crucial goal and troubled the visitors.
Micho Sredojevic 8
He was tactically spot-on. He also chose the right players.
Related stories