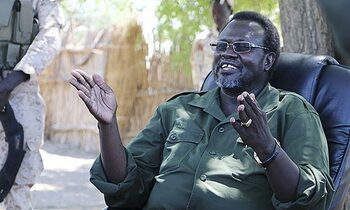 NAIROBI - The leader of South Sudan's rebels, former vice president Riek Machar, said Friday he was "committed to peace" and ready to resume peace talks next week in Ethiopia.

Speaking after talks in Nairobi with Kenyan President Uhuru Kenyatta, Machar also described the nearly six-month-old conflict in the world's youngest nation as "senseless war".

"I have come to push forward this process. And I want to assure you that we are serious about bringing peace to South Sudan," he said in a brief statement after the talks.

"I want to assure you that we are serious in ending this senseless killing in South Sudan. I want to assure you that we support the cessation of hostilities, that we will respect the roadmap and that we will move forward together," he added.

Machar's rebels have been battling forces loyal to President Salva Kiir since December 15, when fighting between rival army factions broke out in the capital Juba.

Kiir accused Machar of having attempted a coup, but has in turn been accused of starting the war by launching a purge of his rivals.

The two sides agreed a ceasefire in January and again earlier this month, but the truces have not held.

The civil war has claimed thousands -- possibly tens of thousands -- of lives, with more than 1.3 million people forced to flee their homes. Some 75,000 people are also sheltering inside UN bases in fear of ethnic violence.

Peace talks are scheduled to resume in the Ethiopian capital Addis Ababa next Wednesday, with the East African regional bloc IGAD -- of which Kenya is a member -- providing mediation.

Kenyatta said it was "crucial and critical that all parties remain committed to our IGAD-driven negotiations, and to the agreement and formation of a transitional government of national unity."
RELATED ARTICLES
IGAD teams commence operations in South Sudan
Oil fans flames of South Sudan war
South Sudan talks adjourned for two weeks
Gen. Muhoozi meets UPDF troops in South Sudan